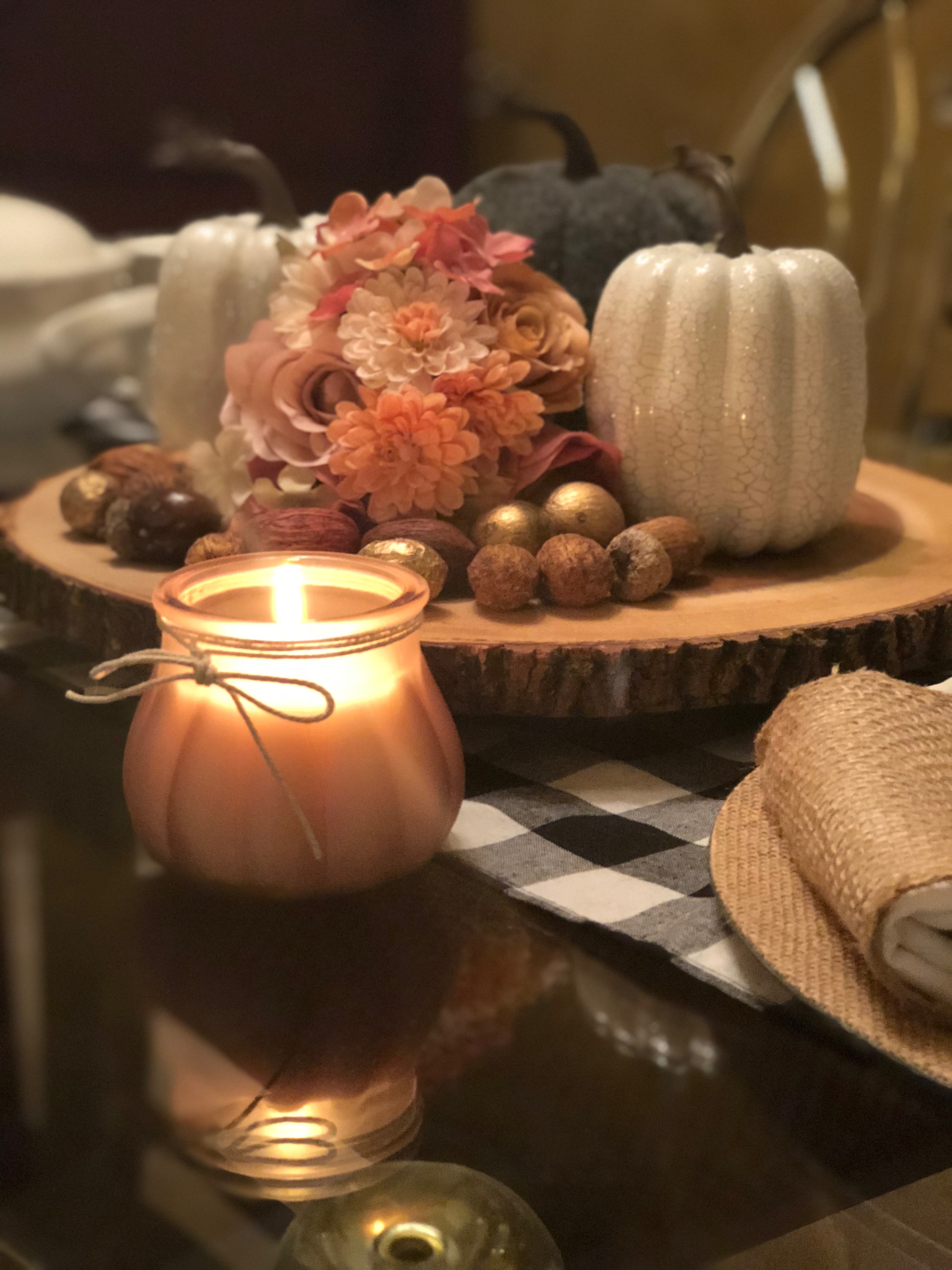 Fall Decorating with Something Old, Something New, and Something … from the Target Dollar Spot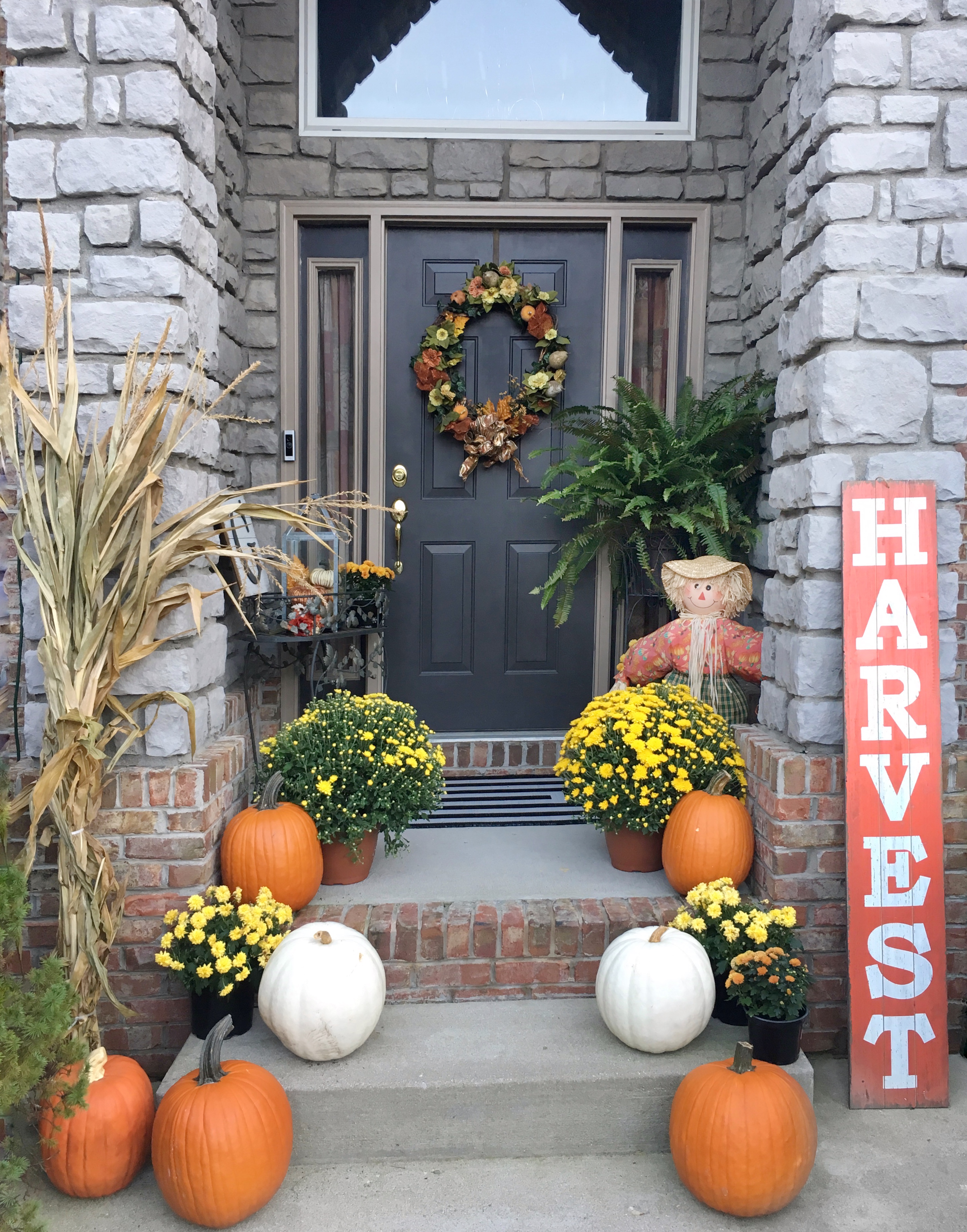 Welcome to our Fall Blog Hop!  If you're coming over from Erin at The Third White House, thank you for following along!!  We have a great group of home decor bloggers gathered to inspire you for fall.
The air is crisper, the leaves are changing and pumpkin spice is everywhere; so how do you jump into fall decorating without feeling overwhelmed?  Most of us have a box, or three, of fall decor from seasons past.  Many of these boxes will contain orange pumpkins, golden leaves, and pinecones.  But what about this seasons super popular muted colors, buffalo checks, and those white pumpkins you see everywhere?  How can you incorporate all the new fresh decor of the season without breaking the budget or tossing out those boxes of traditional decor?  Sit back, relax, and let me show you how I mixed old and new, traditional and modern, and a few things from the Target Dollar Spot to decorate my home this season.
Front Porch:
Let's start at the beginning – the front porch.  Your front porch should be welcoming and make your guests want to come inside.  You also want enough room left for your guests to be able to walk to your front door without feeling like they are tripping over your decor!
Your local farmers, favorite grocery store, or local home improvement center is a great place to begin.  Live pumpkins are very inexpensive and mums are not only beautiful for the "fallification" of your front porch, but if you plant them in your landscape before the first frost in your area, they will be a beautiful addition to your home for years to come.
One easy way for you to add in this seasons ever-present white pumpkins is with live ones.  I found these at my local Home Depot.  One of the most unique and decorative things about live pumpkins is the variations of the stems.  Finding white pumpkins with the stems attached proved to be more difficult, but I managed to find a couple that were fairly symmetrical in size and shape, and both had at least a portion of the stem remaining.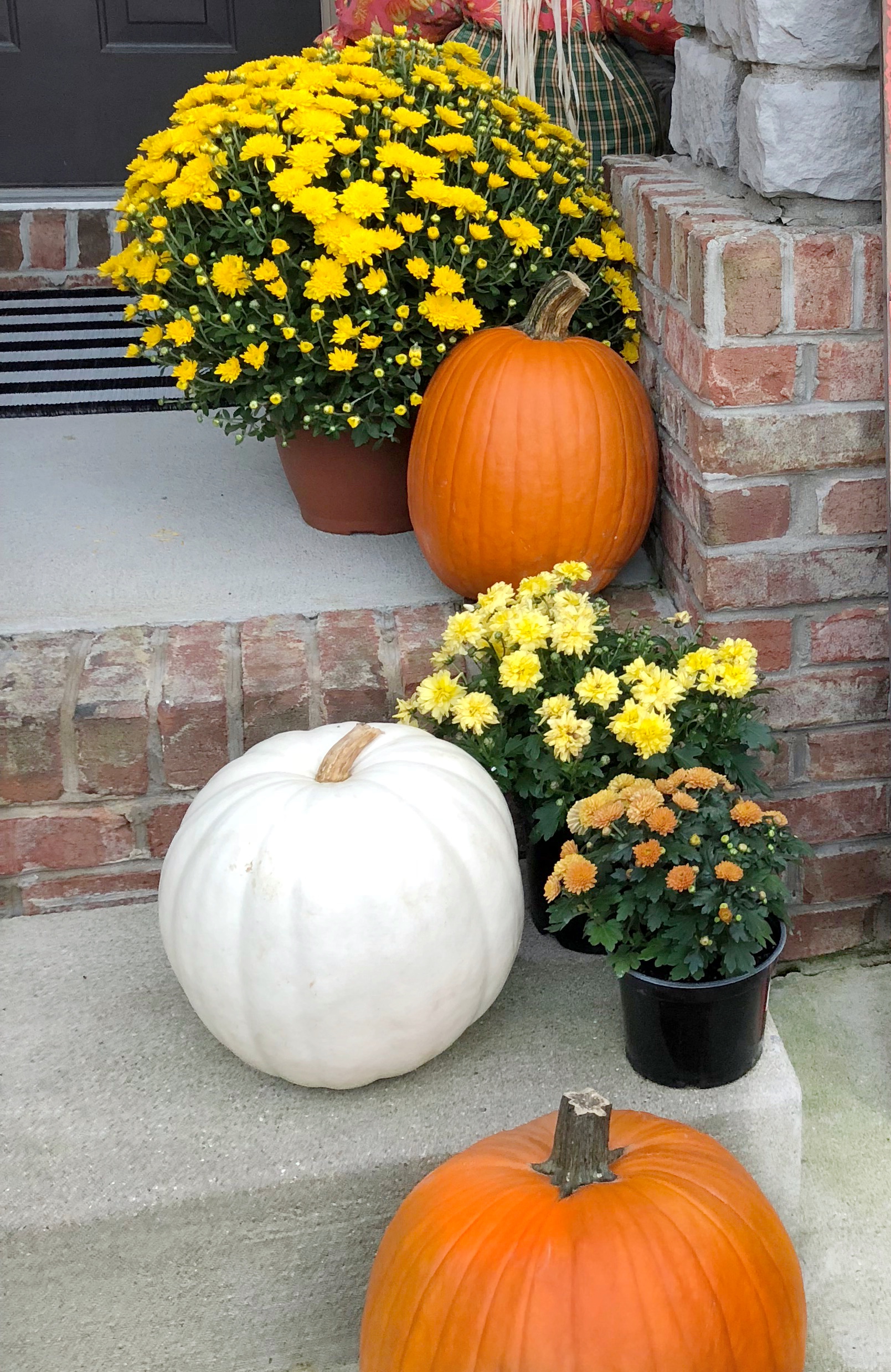 There is no reason you can't mix old and new on your front porch, as well as in other areas of you home.   The trick to keeping your decor fresh is to mix your favorite from years past with new items.  For this year's fall front porch, I  used this wreath that I crafted several years ago.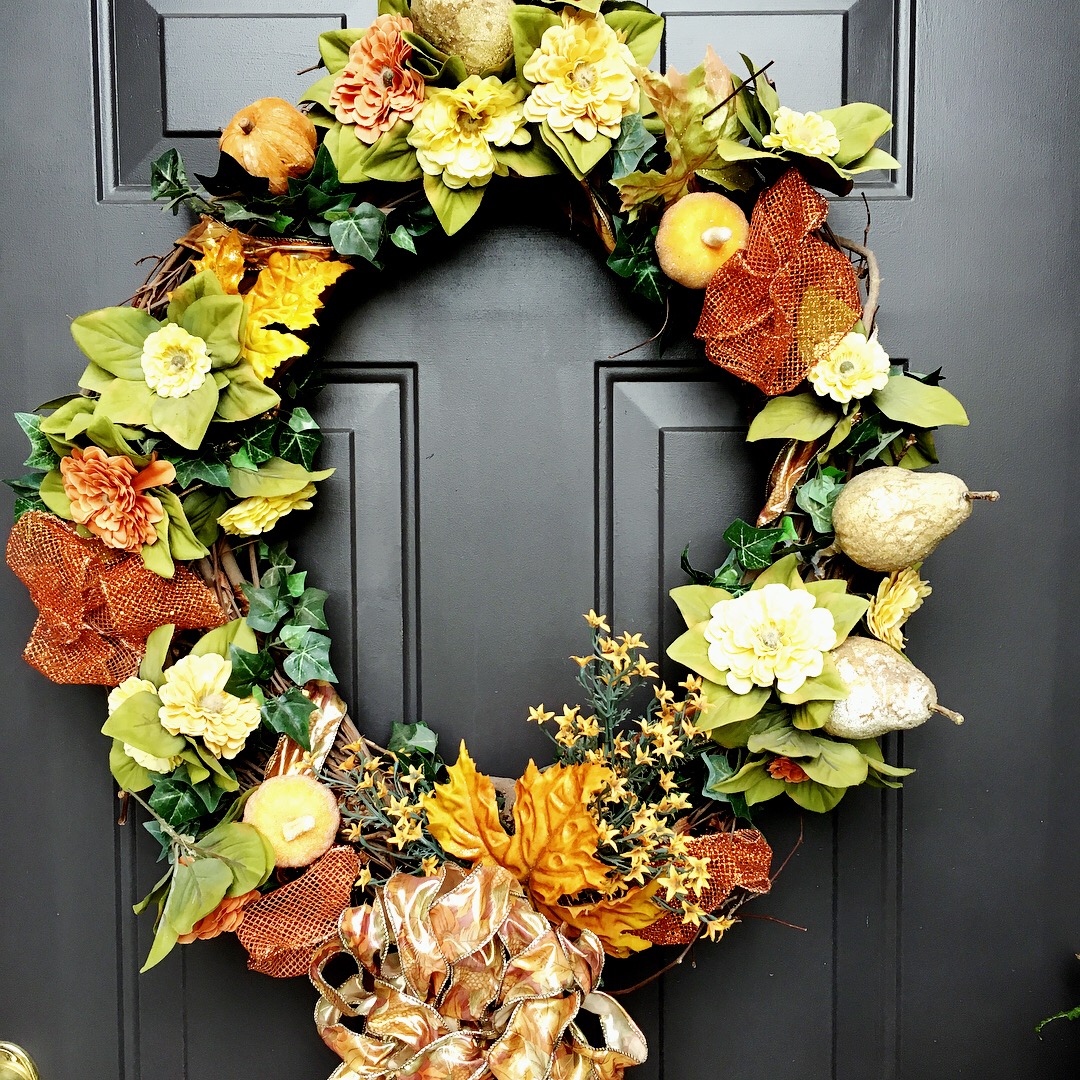 I have had this lovely scarecrow lady in my fall decor for years.  To make her feel more up-to-date I positioned these cute little wooden pumpkins (from the Target Dollar Spot) next to her.  When purchasing new items try to purchase trendy items that are less expensive and save your bigger splurges for items that will stand the test of time.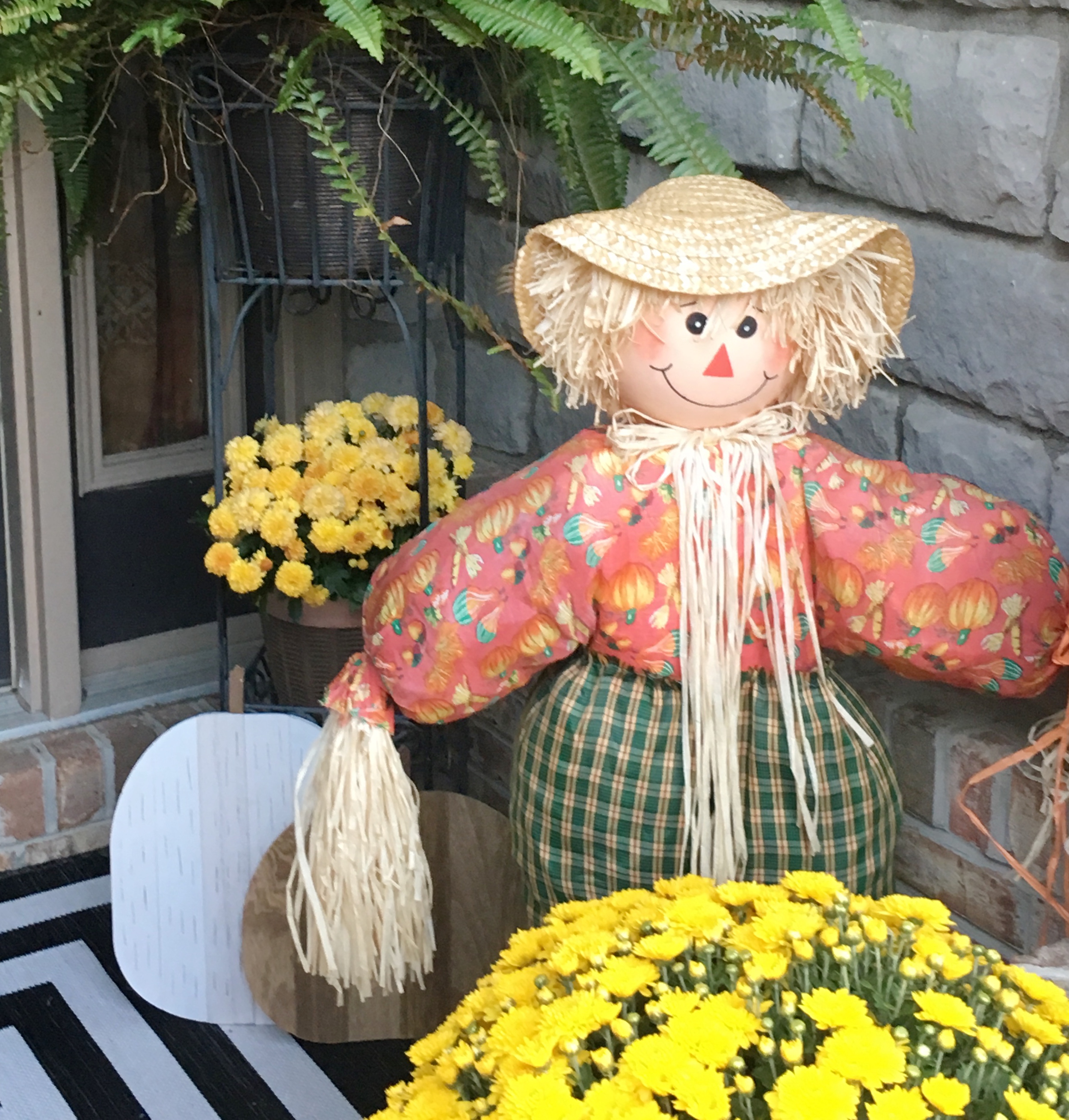 Another way you can save money while keeping your decor fresh is to find pieces which are not necessarily only useful for one season.  This great "Harvest" sign from Hobby Lobby says "Welcome" on the reverse side – and can be useful for multiple years and in multiple seasons.  In fact, I had the "Welcome" side showing on my front porch all summer!
By purchasing items which can be used for more than one season, you are also saving money.  Another item you can use, as-is, for multiple seasons is a monogram sign, I purchased this one at Hobby Lobby.  I have used this piece on my front porch since spring, but when placed with this fall arrangement it feels very on-trend for this season.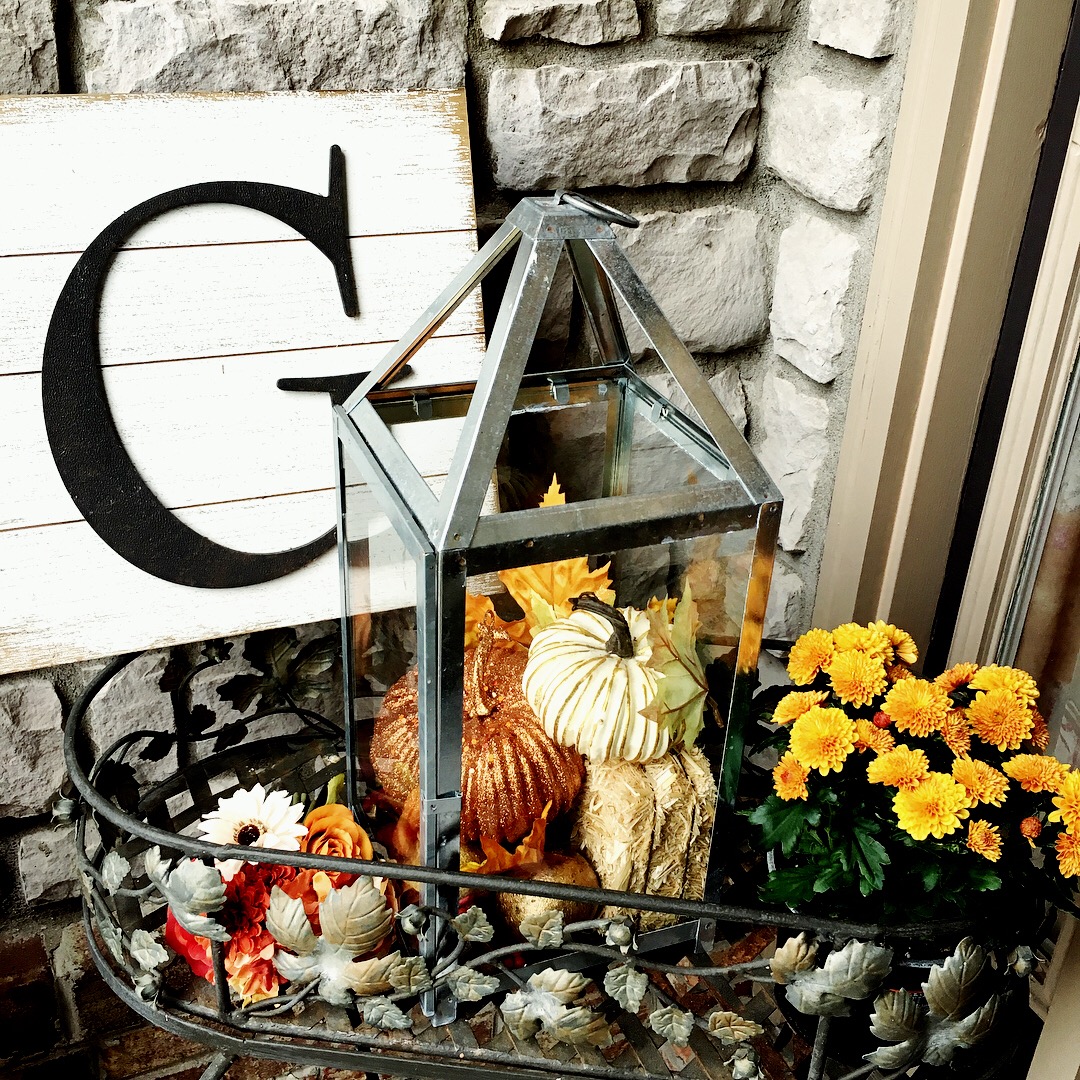 One of my absolute favorite items to change with the season is the cute little lantern from the photo above.  It's so versatile, you can see how to decorate it for Christmas here.  For fall, you can simply added a couple of miniature hay stacks, some colorful nuts and berries, a few fall leaves, and, of course, some pumpkins.
Dining Room:
Now let's take a step inside and look around the dining room.  In the dining room it's again easy to have a mix of new items, items you have had for years, and some trendy items from the Target Dollar Spot.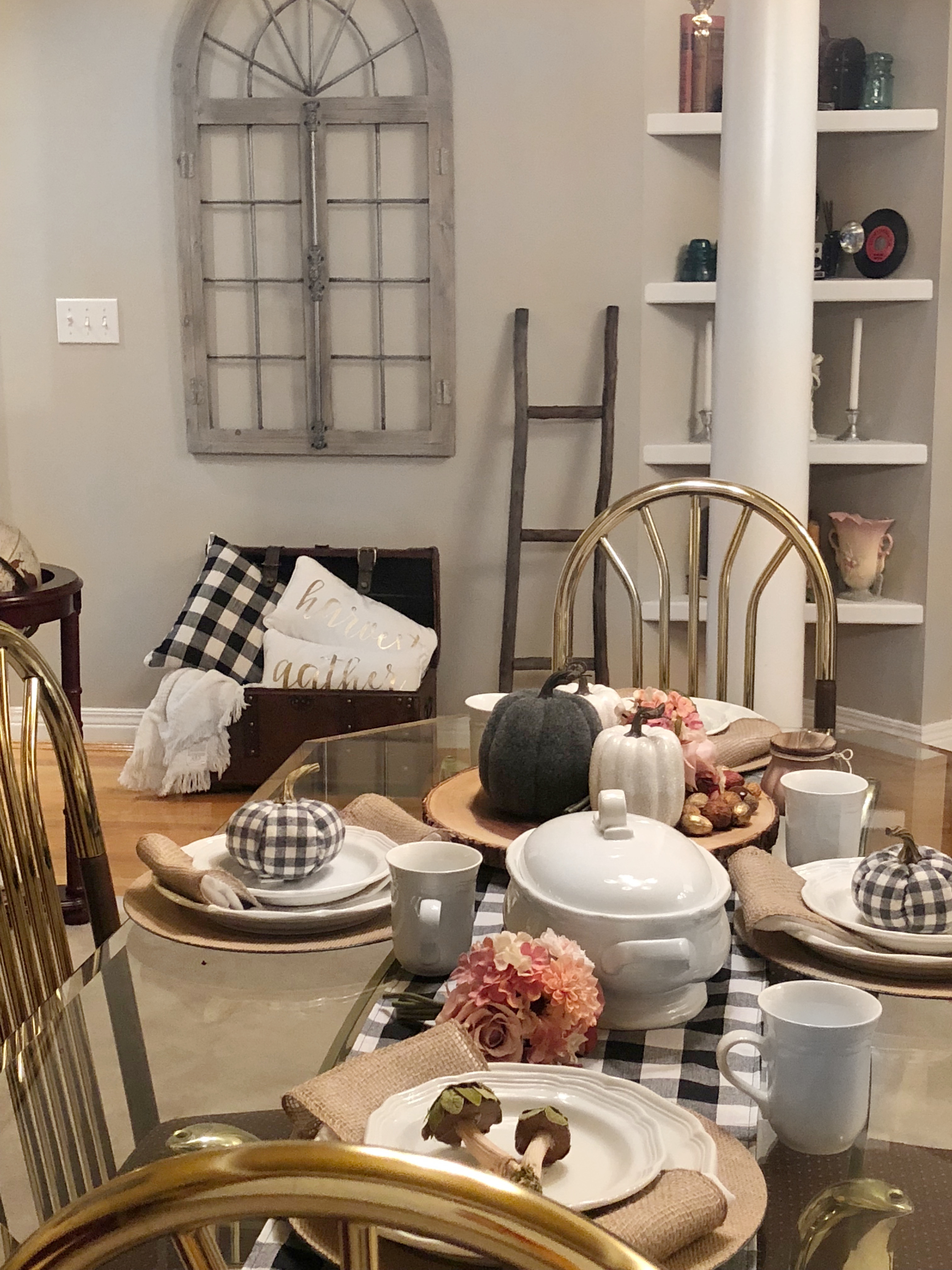 The biggest seasonal statement in the dining room is generally the tablescape.  Buffalo check is very big this year, and mixes quite effortlessly with more traditional pieces.  The mini buffalo checked pumpkins are new, but the cute little acorn and the mushrooms have been a staple in my fall decor for years.  In past years I have used them in apothecary jars, vignettes, and in a lantern.  This year I wanted to put mini checked pumpkins on each place setting, however, I could only find two of the mini checked pumpkins so I had to find a different solution.  I'm really happy with how it turned out and think it shows that not everything has to be perfect to be beautiful.
You can save money in your fall dining room like I did by reusing many items.  The white Mikasa china is my wedding china, the burlap chargers I have used with many different tablescapes, the trunk of pillows has been with me for years (however the pillows are new), and the corner shelves are full of antiques given to me by my Mom.  A few new touches have been added here and there.  
The burlap strips between the plates is really just a piece of burlap ribbon I cut to match the size and length of my folded white Milliken napkins.  The mini pumpkins on the table are from JoAnn's.  The fall flower bouquets are from Michaels, and the new pillows are from Hobby Lobby.  The beautiful archway is from Hobby Lobby and the rustic ladder is from Michaels.
With my bar cart I again show you how you can mix old items and new ones and also how simply rearranging the items can give them a fresh new look for a fresh new season.  For fall, I kept the wine and wine glasses, but switched the items on the top out for more seasonal decor.  You can see how I updated the candlesticks here.  The candles are from Target and the grapevine pumpkin is another piece I have used in my fall decor for years, though never before on my bar cart.  I used the farmers market flower basket full of brightly colored flowers on my front porch this past spring.  It was a purchase from Hobby Lobby.  Here, with this seasons muted fall colors, it's prefect for fall.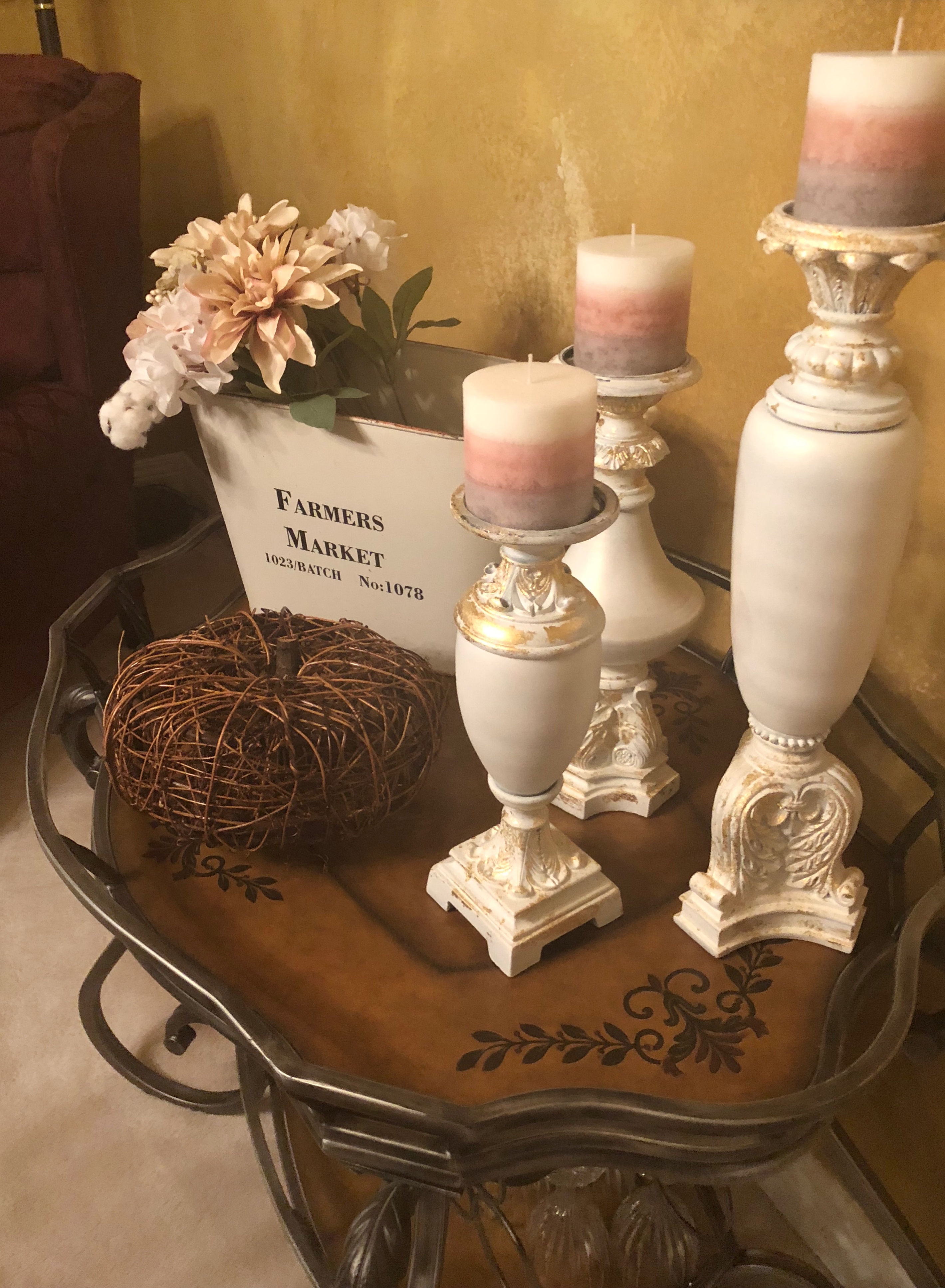 One of my favorite features of my home are the built-in corner shelves which are currently filled with antiques, most of which have been given to me by my Mom so they are not only beautiful, they also have beautiful stories surrounding them.  To make this area feel more like fall, I added simple touches, like these white houses from the Target Dollar Spot.  I also added some small bouquets of muted fall colors from Michaels.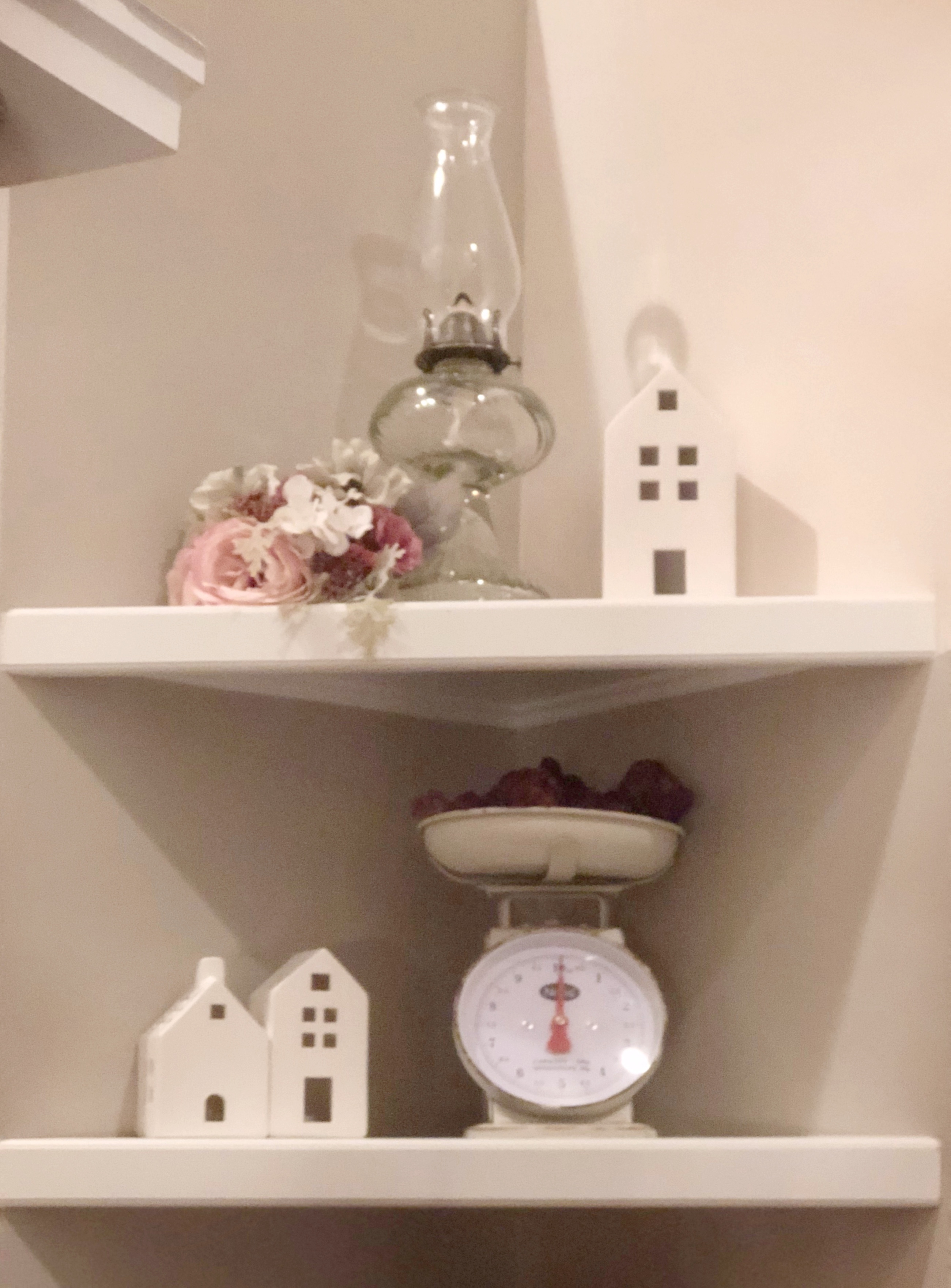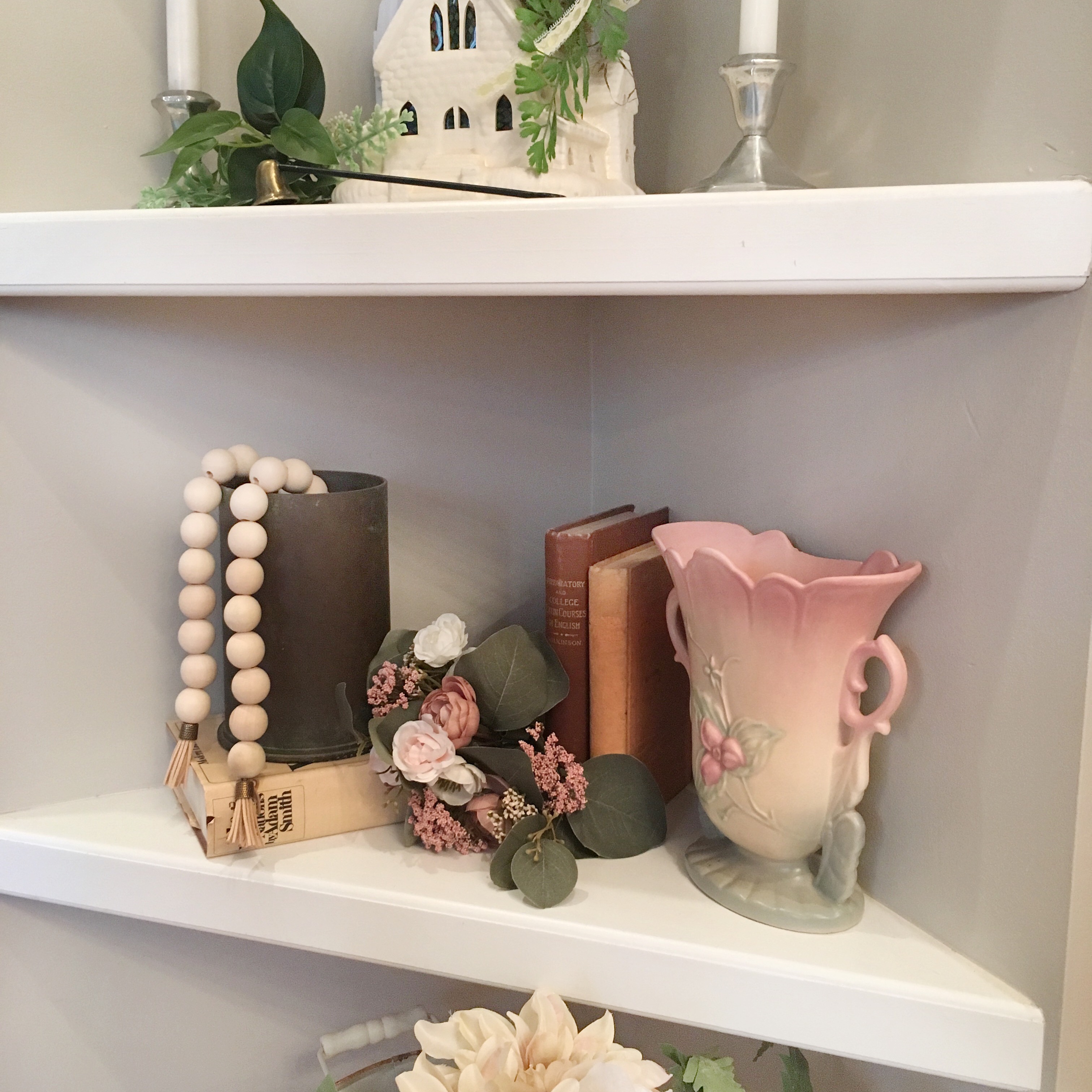 You can easily add a cute fall touch to even a tiny area of the room.  Here, I show the final Target Dollar Spot items I used this season in the dining room.  These adorable little gray and white pumpkins are the perfect fit for a small area or could be used as part of a larger vignette.  I chose to place three of these pumpkins on a book positioned on my globe stand.  They match the colors of the pumpkins on the table and add just the right touch of fall to the corner of the room where the globe is displayed.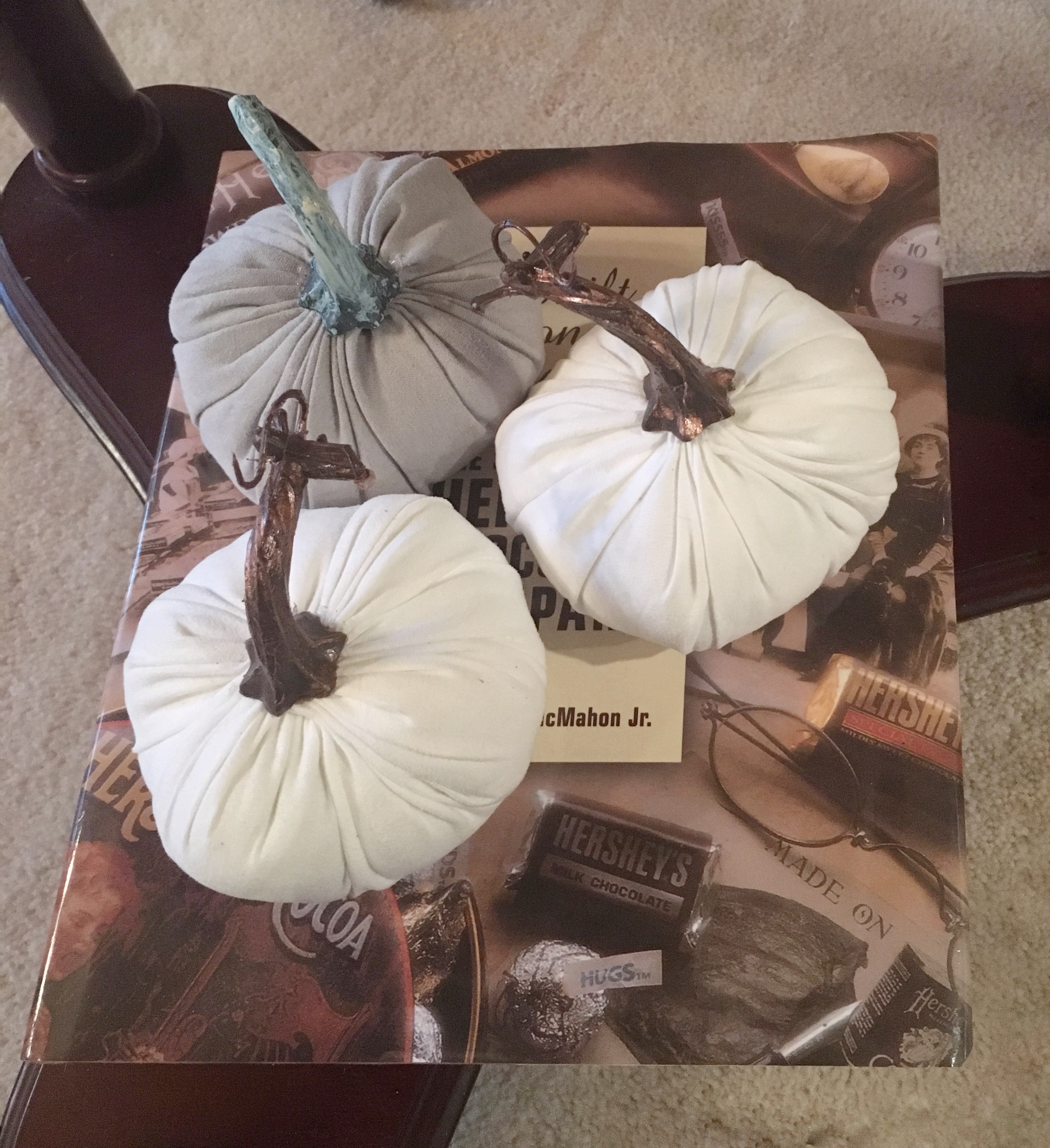 While most of the above photos were taken on a bright sunny day, I couldn't help but include this one taken at night, with much softer lighting because to me, nothing says fall like the warm glow of candlelight.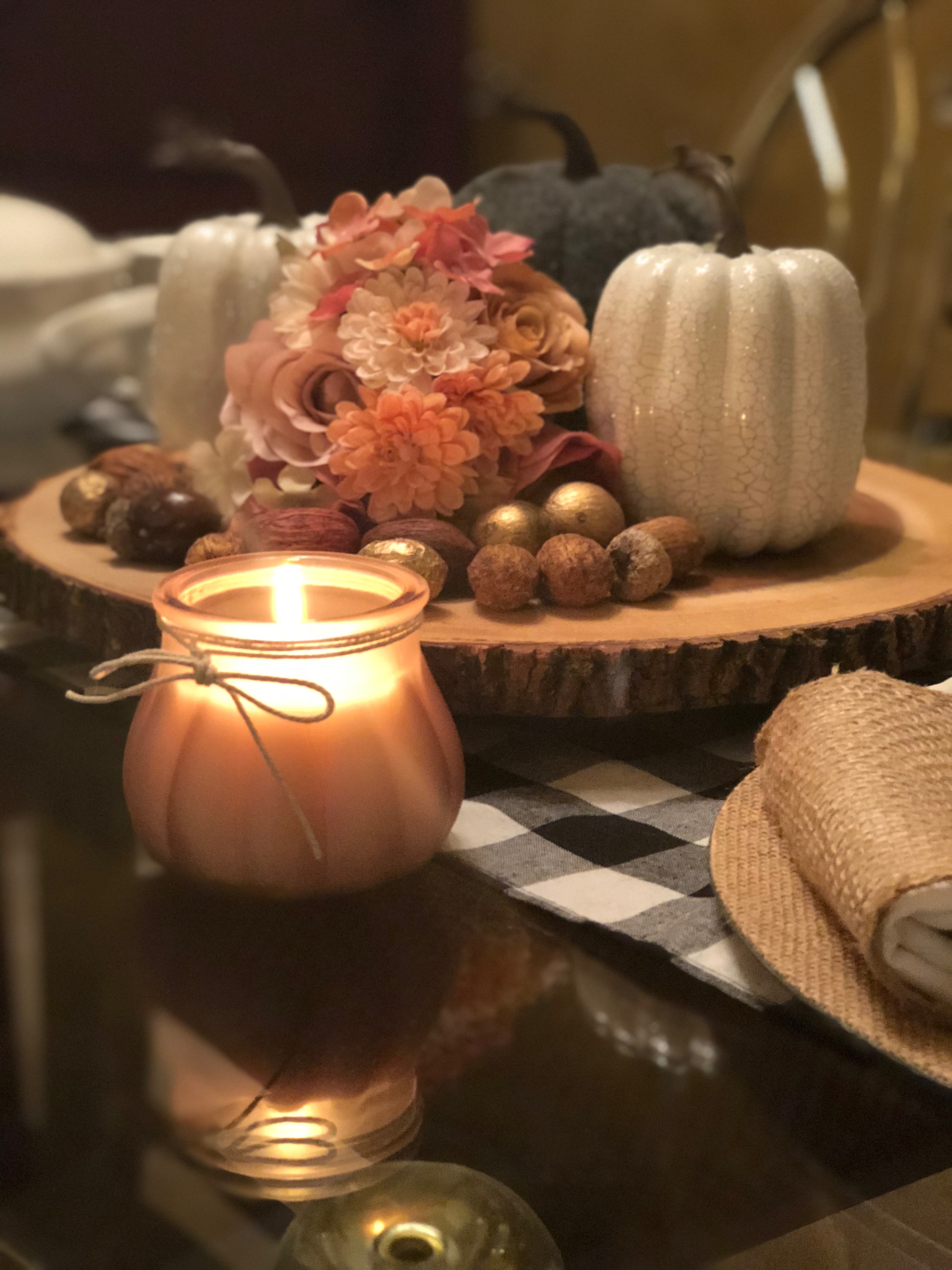 Next week we will explore the sights and scents of fall by checking out the kitchen decor and looking at how to make adorable halloween cupcakes and the cutest little haunted house cake ever!!  Be sure to sign up for email updates from us so you don't miss this fun tutorial!!
Thank you for reading.  I really hope you have enjoyed sharing in the "fallification" (that's a thing, right?) of my front porch and dining room.  Please head on over to Ana at Fiddle Leaf Interiors for some more amazing fall inspiration! Be sure to check out all of the lovely bloggers on our amazing fall blog hop!  Don't forget to check back next week for my Halloween baking special blog post!!  Hope to see you then.
Disclaimer: We are a participant in several affiliate advertising programs including the Amazon Services LLC Associates Program, an affiliate advertising program designed to provide a means for us to earn fees by linking to Amazon.com and affiliated sites.  This program results in no added costs for you but helps support our web page.
Check out the rest of the lovely bloggers in our Fall Blog Hop: