Christmas Ornament Basket DIY using Plant Stand
Hi again.  It's so good to have you back.  Today I want to show you how I used the leftover branches from the bottom of our Christmas tree to make this beautiful decorative basket for our front porch.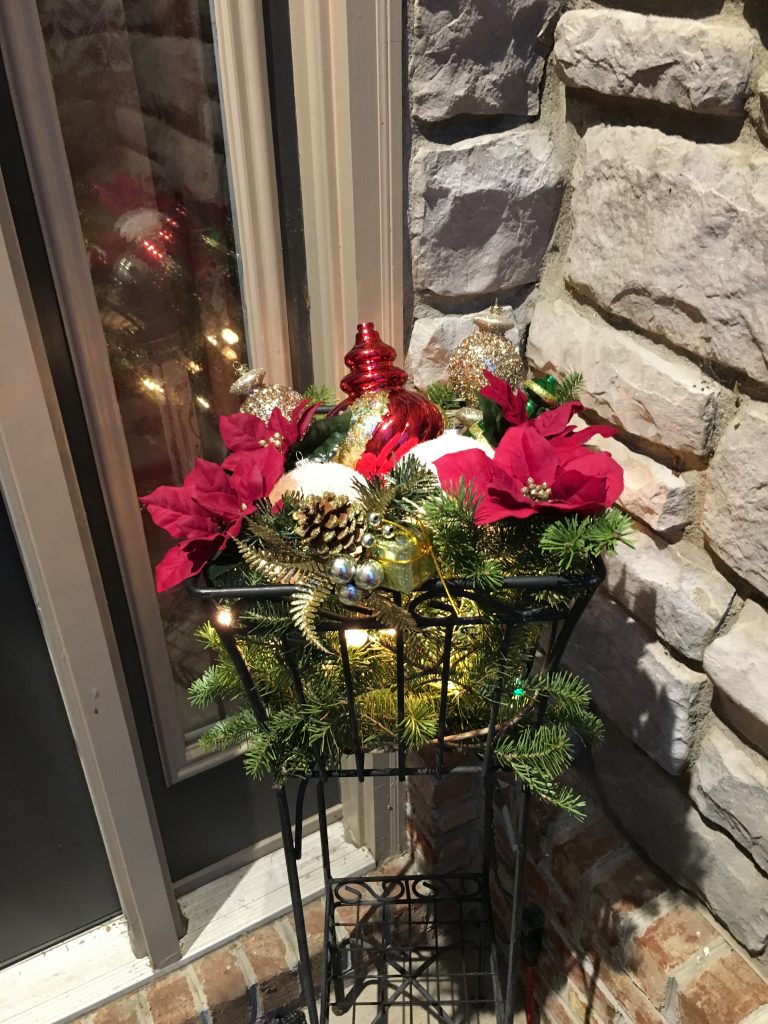 Begin with any shape outdoor planter or plant stand and the leftover branches from your live Christmas tree.  I have had my plant stand for years, and can't find one exactly like it to link, but I linked a couple of hanging baskets and a plant stand.  I think either of those would look amazing, but how cute would this decoration look in this replica bicycle!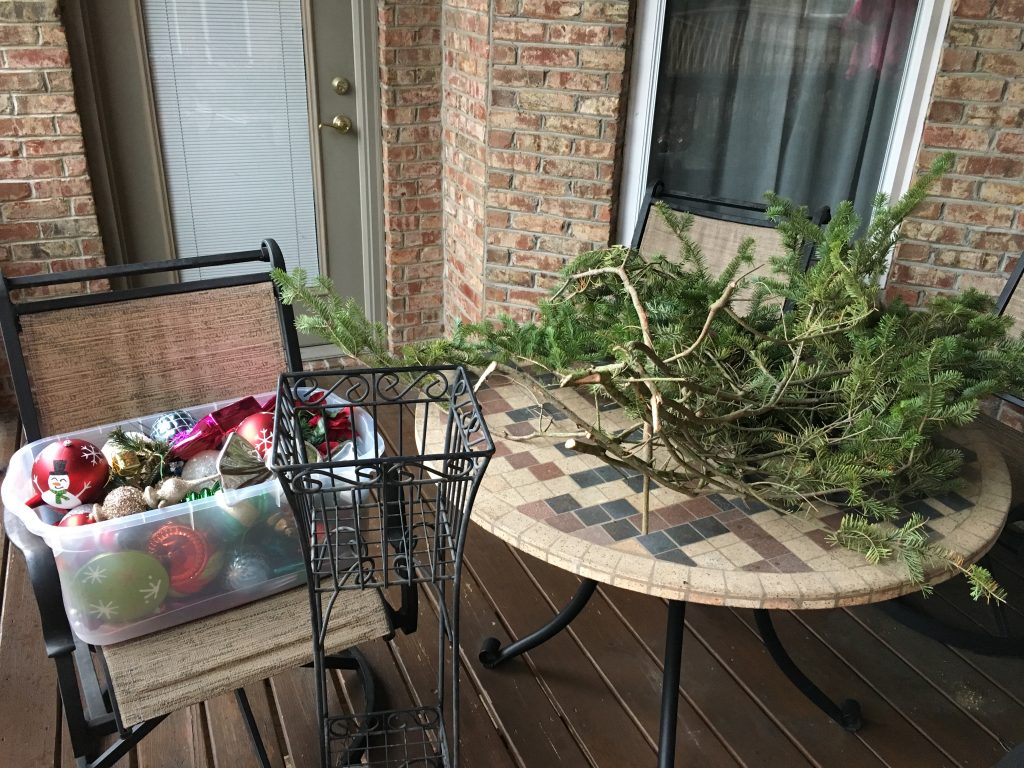 First, you will want to remove any bare branches.  The thicker the greenery the better it will look for the finished product.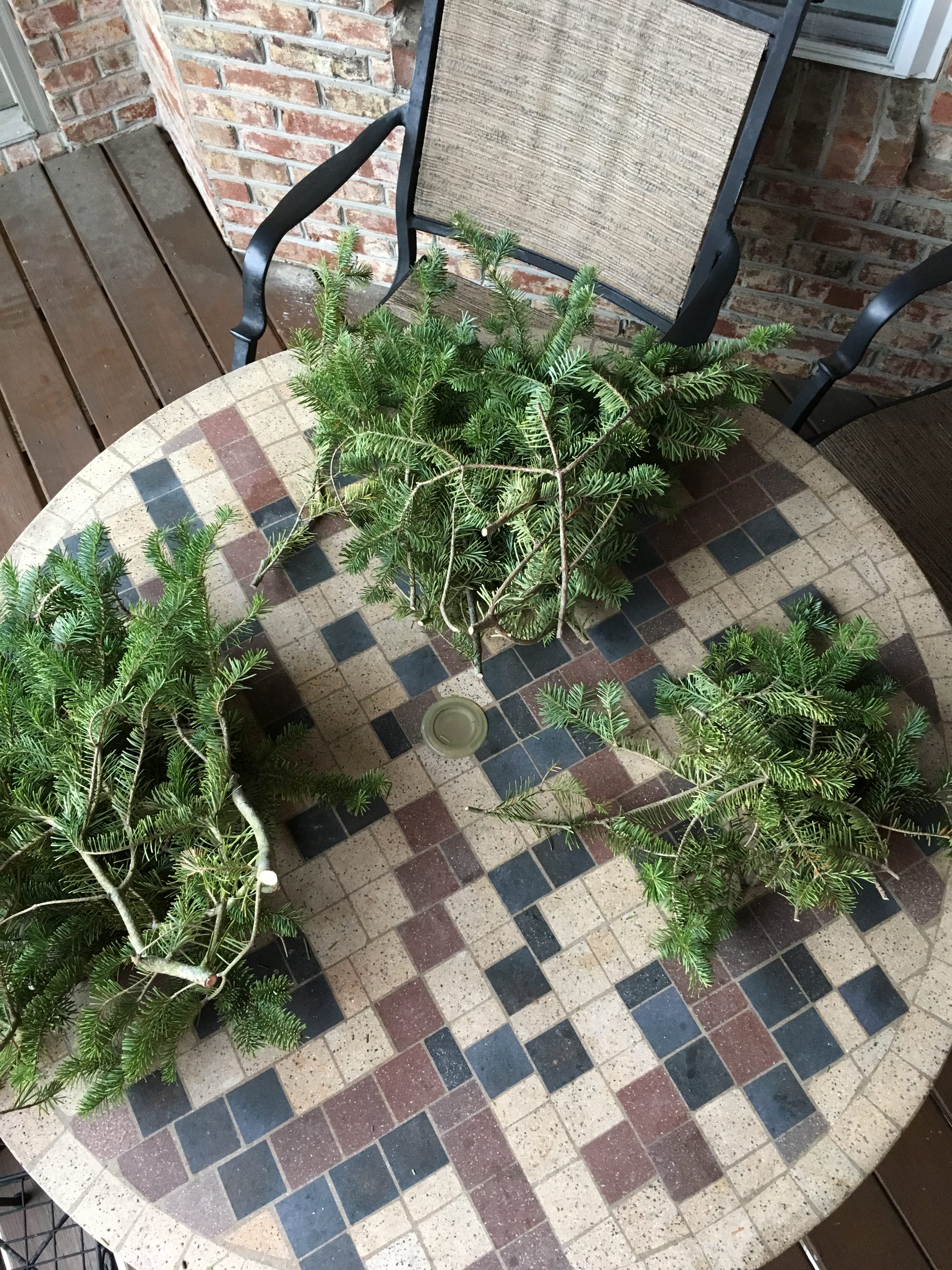 To make the process go more smoothly, I separated the greenery into three piles.  I made a pile for small branches, medium branches, and, you guessed it, large branches.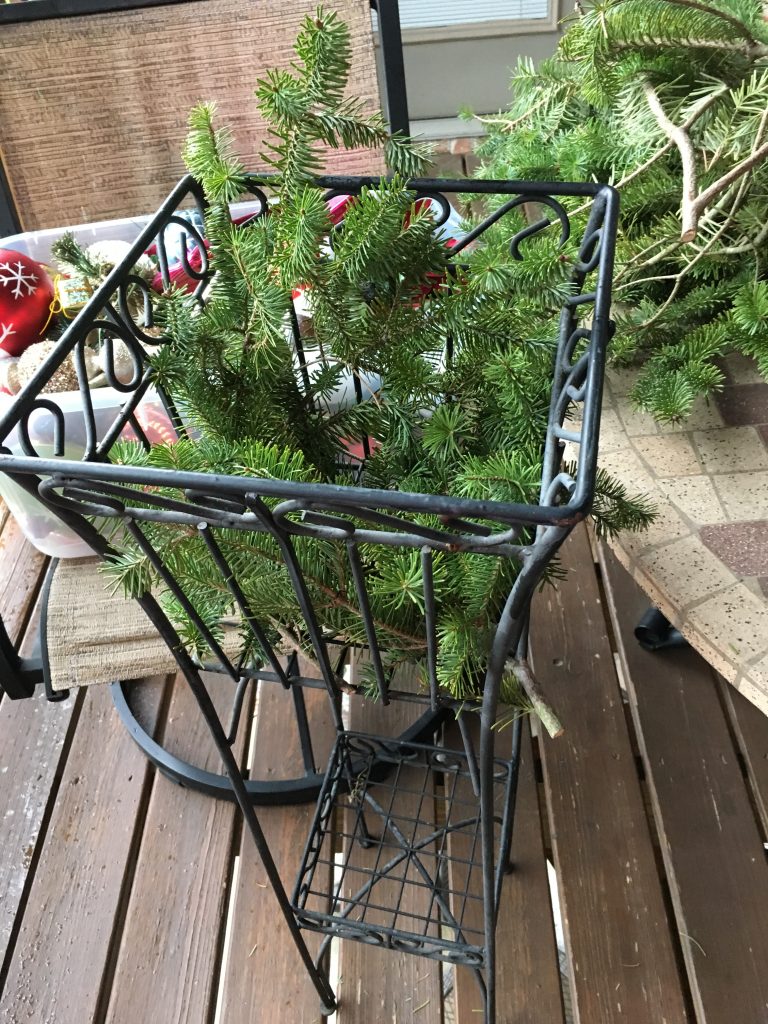 Begin lining your container with the large branches.  You want to get a good base.  It needs to be thick enough no ornaments or decor falls through, but thin enough the light still shines through at night. To conceal the wires as much as possible, try to find white lights on green wires like these.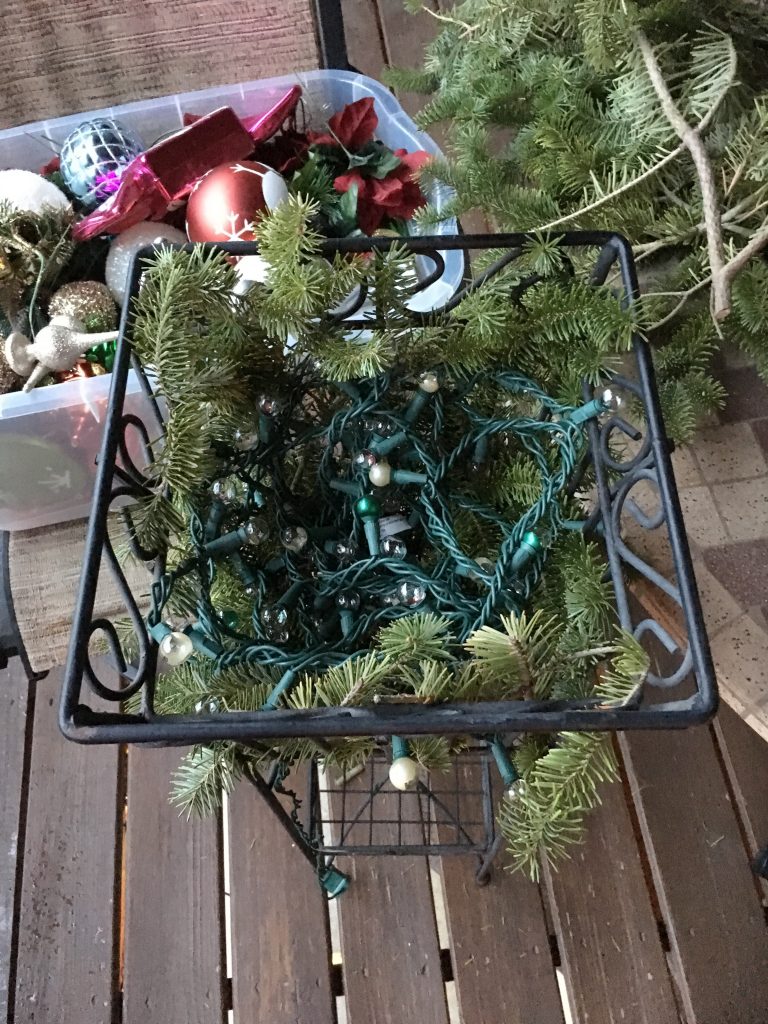 Next, if there is a power source available, add a single strand of outdoor lights.  (If there will be no source for power where you plan to place this Christmas decoration you do not need to add lights.  The ornament basket is beautiful even without lights!)  For this years Christmas decorations, I used red, white and green lights in the front of the house, so I used white lights in my basket so it would fit with the color scheme.
When adding the lights, you can work them into the branches a bit.  Your goal here is for the light to shine through but not to be able to see the light bulbs during the daytime.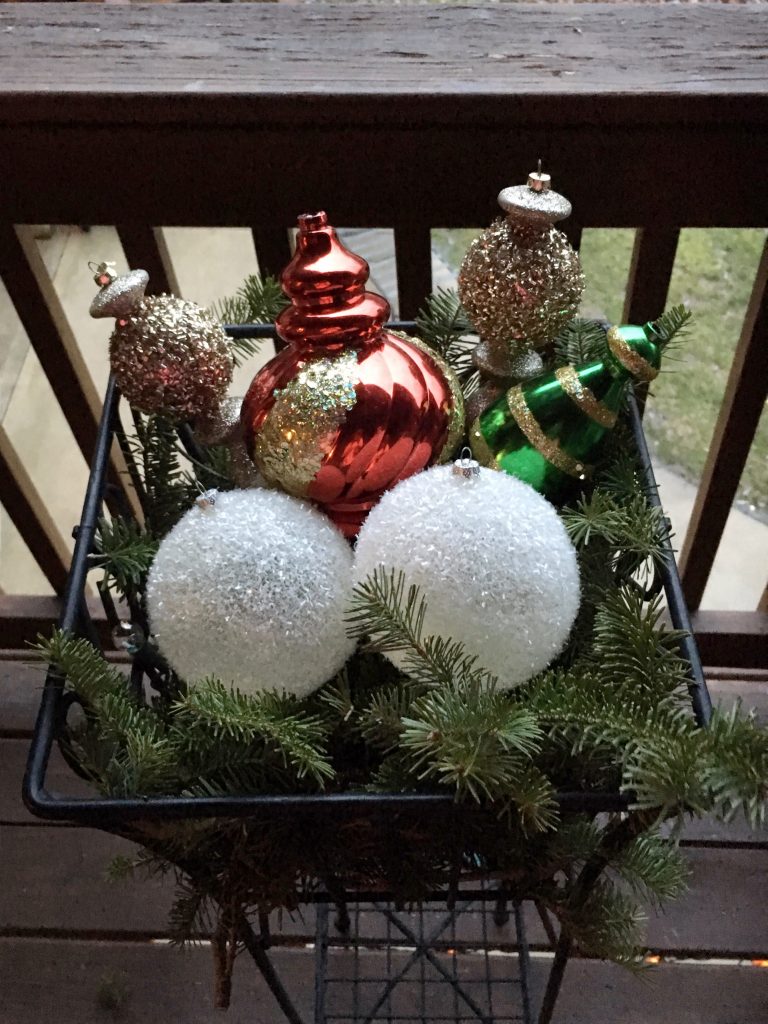 Next add your outdoor or shatterproof ornaments. Again, I stuck with the red, white, and green theme but any assortment of colors will be beautiful.  You can match your outdoor decor.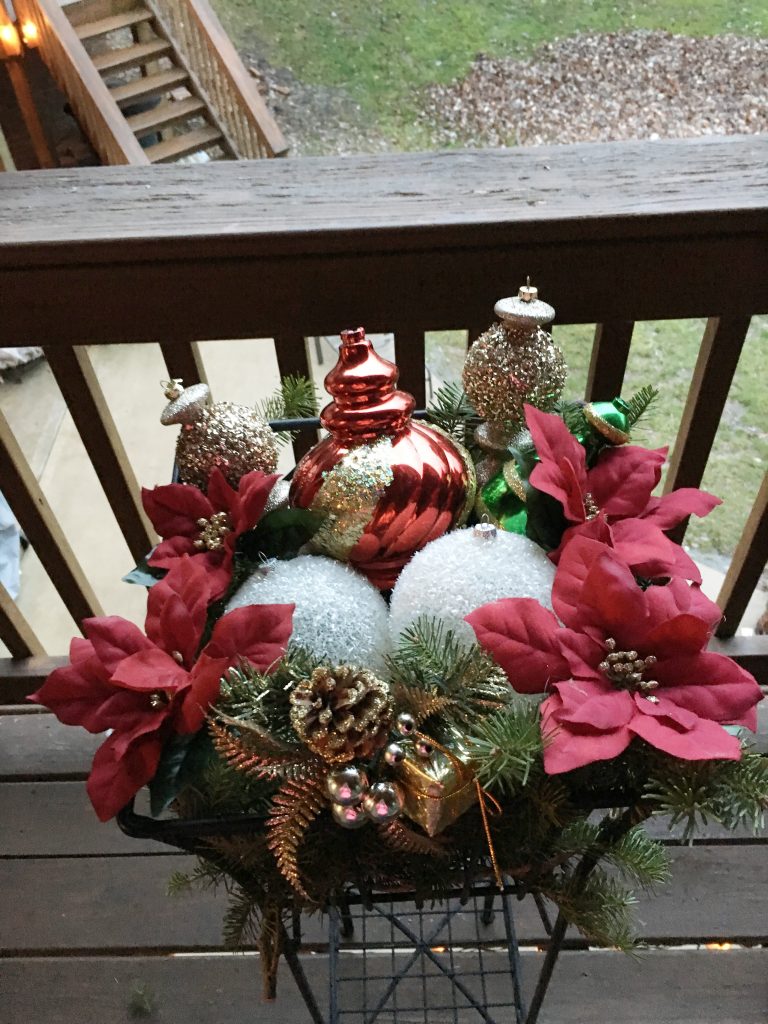 To give the basket a polished look I finished it off with more greenery – this time from the "small" pile.  I also added a floral pick and a few poinsettias blooms which I purchase at Micheal's.
Isn't is even more lovely at night!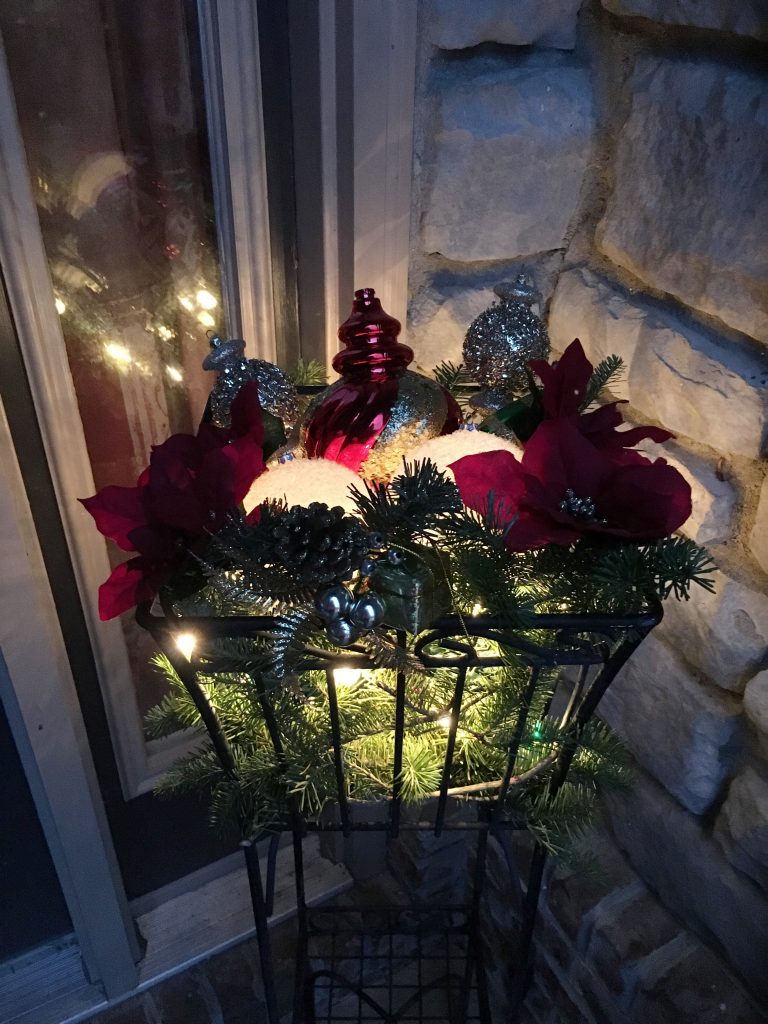 Thanks for visiting!
see you soon,
Sondra