Farmhouse Dining Furniture and Rustic Light Fixture – ORC Week 3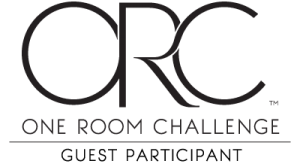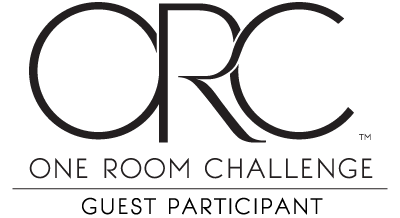 Welcome back!  This has been an exciting week for us with the delivery of both our new farmhouse dining furniture and rustic lighting fixture!  I can't wait for you to see the progress, but first a reminder of where we started on our One Room challenge™  journey.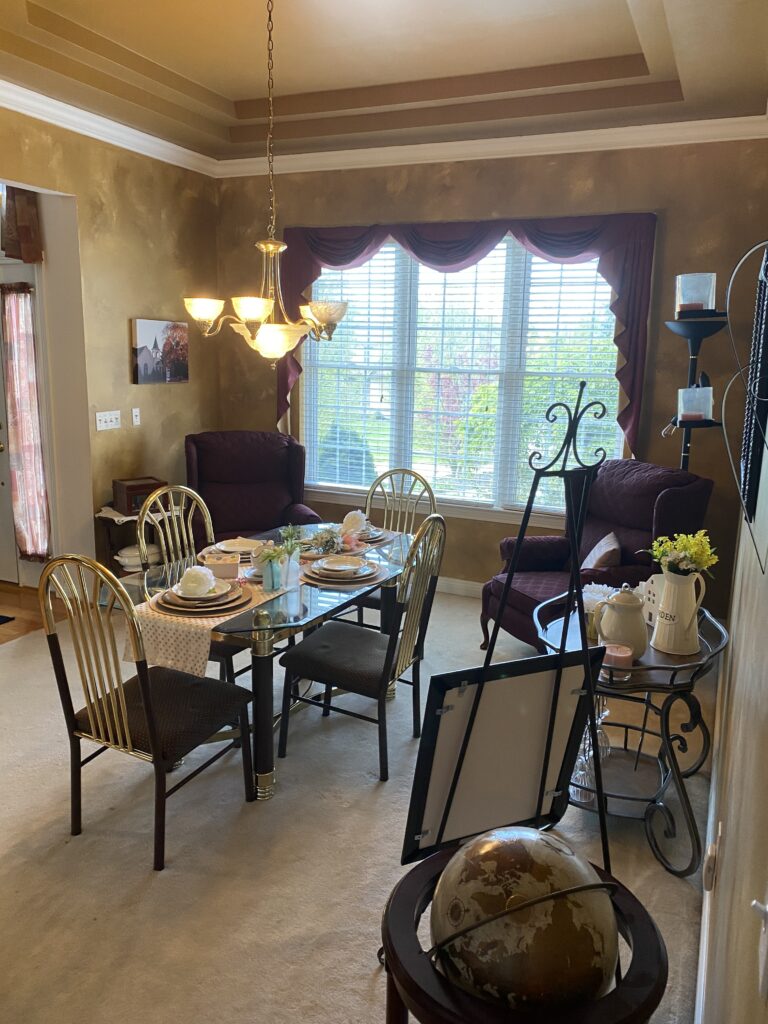 You can check out my week 1 post and see my plans for this room here, and my week 2 post where we painted, and painted, and then repainted here.
Before I jump right in with this week's update, I want to take a moment to say what an exciting experience this has been.  I want to thank Linda and the entire team at One Room challenge™ as well as everyone at Better Homes and Gardens who made this wonderful event possible.
Now for what's happening with our dining room this week.  As I said in my opening, the new light fixture came in.  I couldn't be happier.  The only downside of this light is that it is rather difficult to get straight.  Unlike a round light that doesn't have to line up with the table, our new light fixture is rectangular, so it has to be in line with the table and the room.
To get the light perfectly in line, we adjusted …
.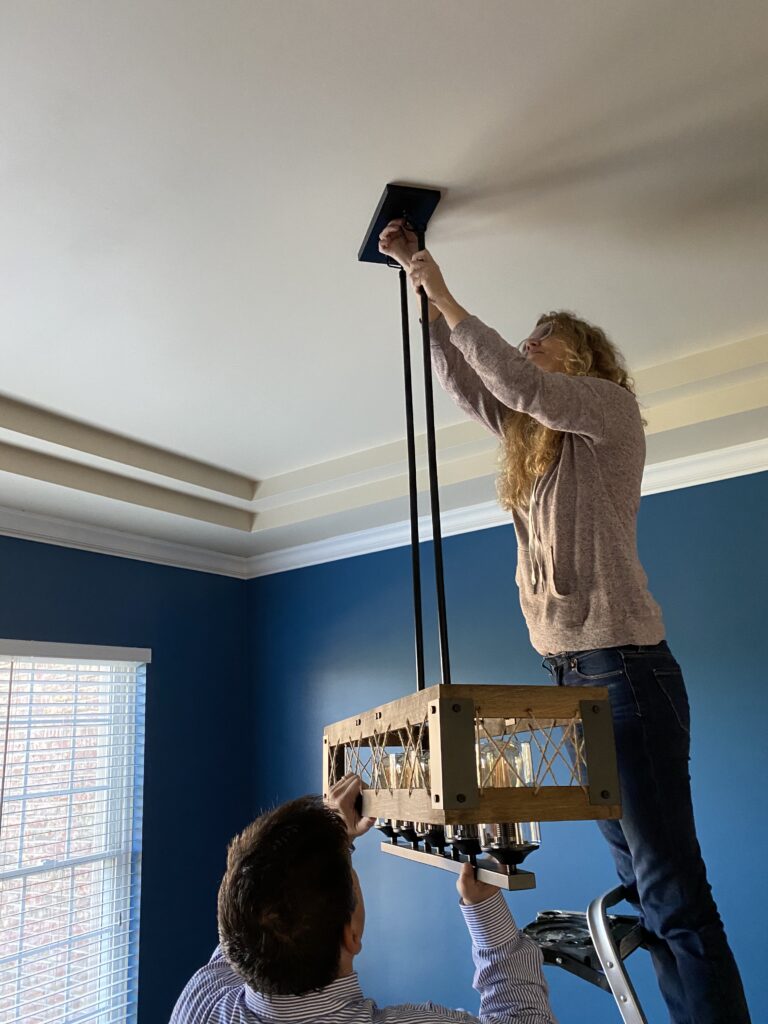 and adjusted …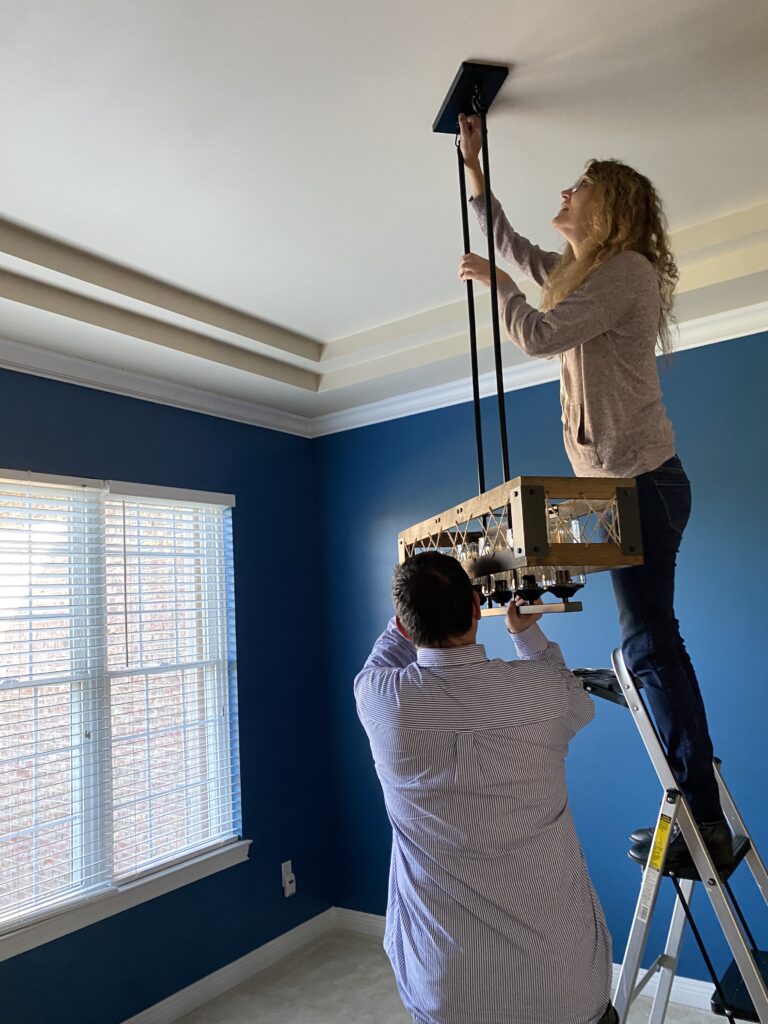 and adjusted!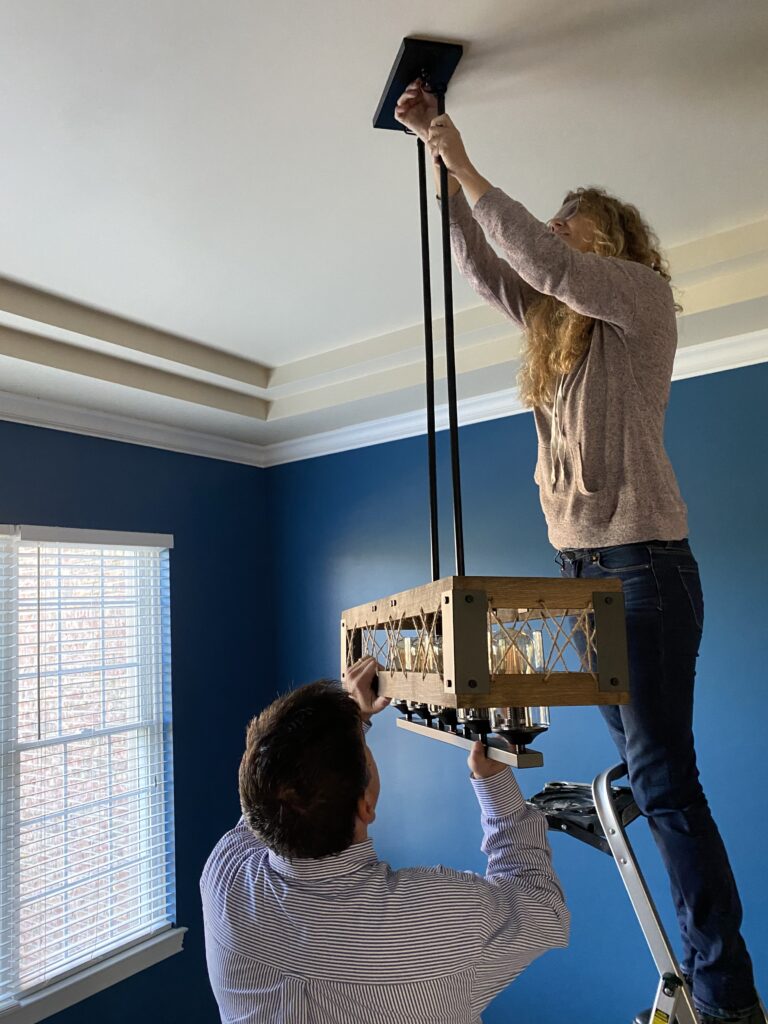 I think we finally got it lined up with everything!
Next we were ready for the farmhouse style furniture.  Some assembly was required on the chairs.  We had to attach the seat and front legs to the back/back legs piece. It was really simple to do, they attach with Allen screws and an Allen wrench is included.  Our cat, Yoshi, clearly is in charge of making sure everything is done correctly.  For the table, we only had to attach the tabletop to the legs, however ours was delivered partially assembled.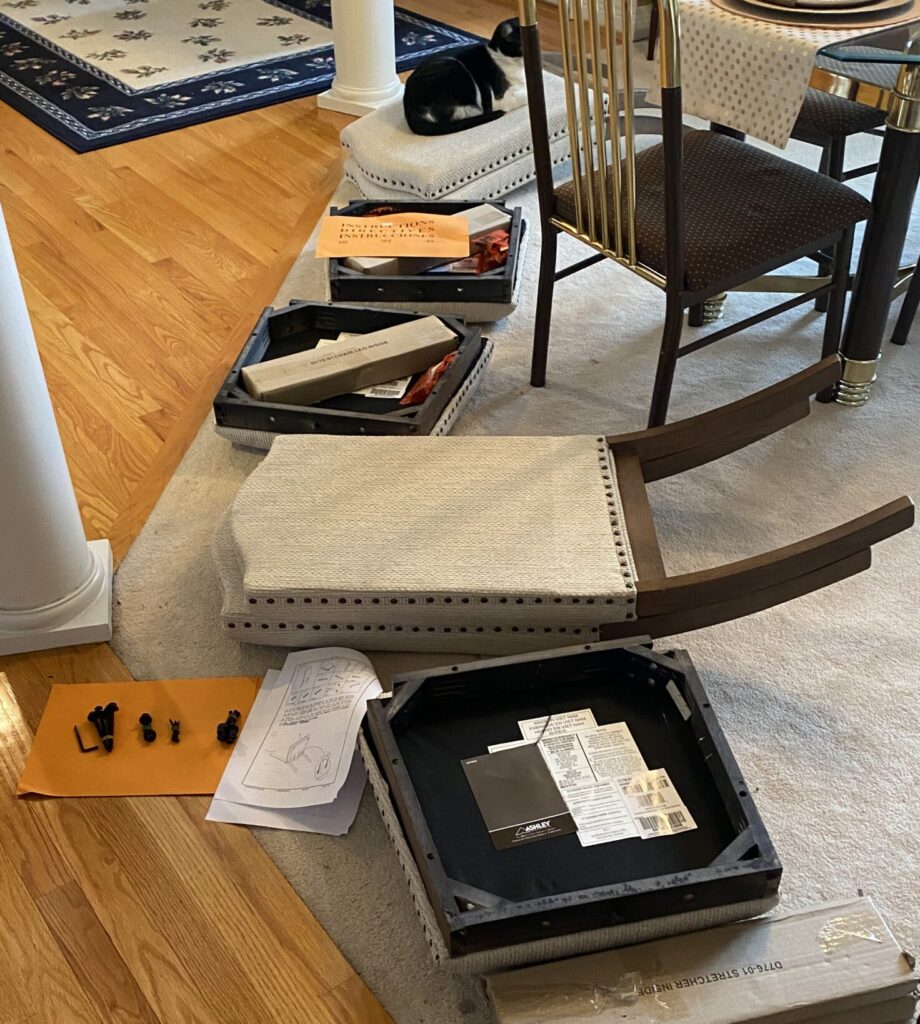 We had originally not planned to purchase the server to go with our new table and chairs, but after looking at the dimensions a little more closely, we decided to go for it.  And I am so glad that we did! We picked the server up from the Ashley store ourselves as it was more of a last minute purchase and I wasn't sure I would get it in time if I had it delivered.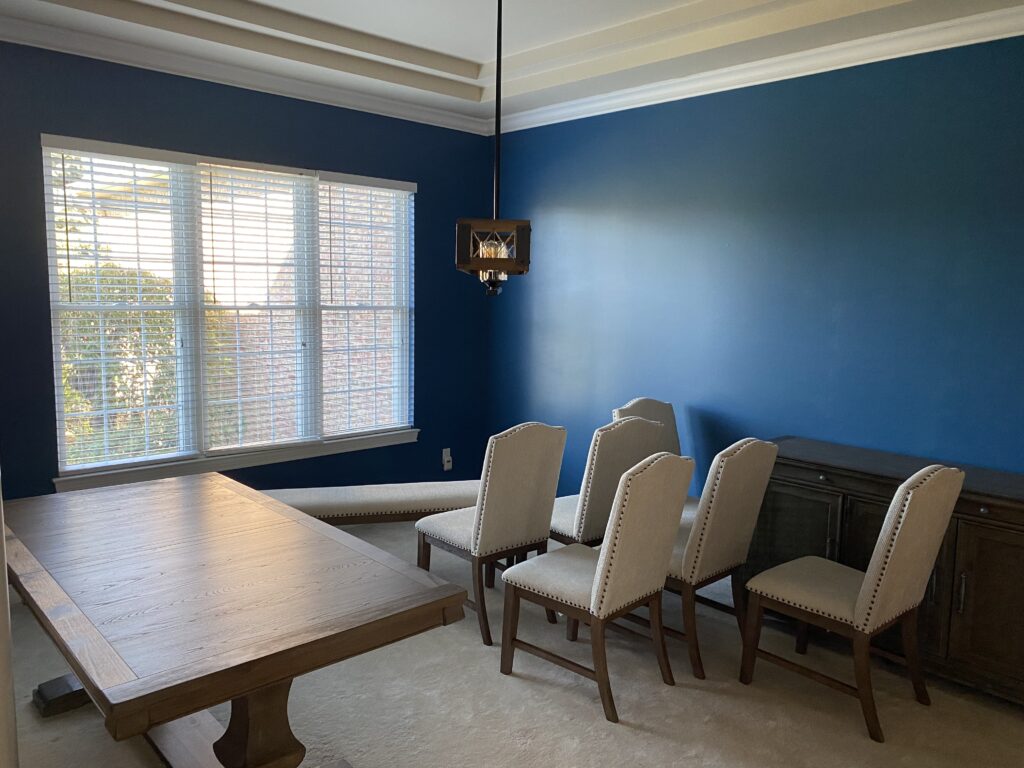 We are so happy with how well our farmhouse dining furniture and rustic lighting came together, and couldn't be more excited about our dining room.
I want to close this weeks update with a few more photos of the gorgeous light fixture, but first I would like to remind everyone to check out the other guest designers participating in the 2020 Fall One Room Challenge, you can find links to their projects here.
Now, as promised, a few more pictures of the beautiful rustic light.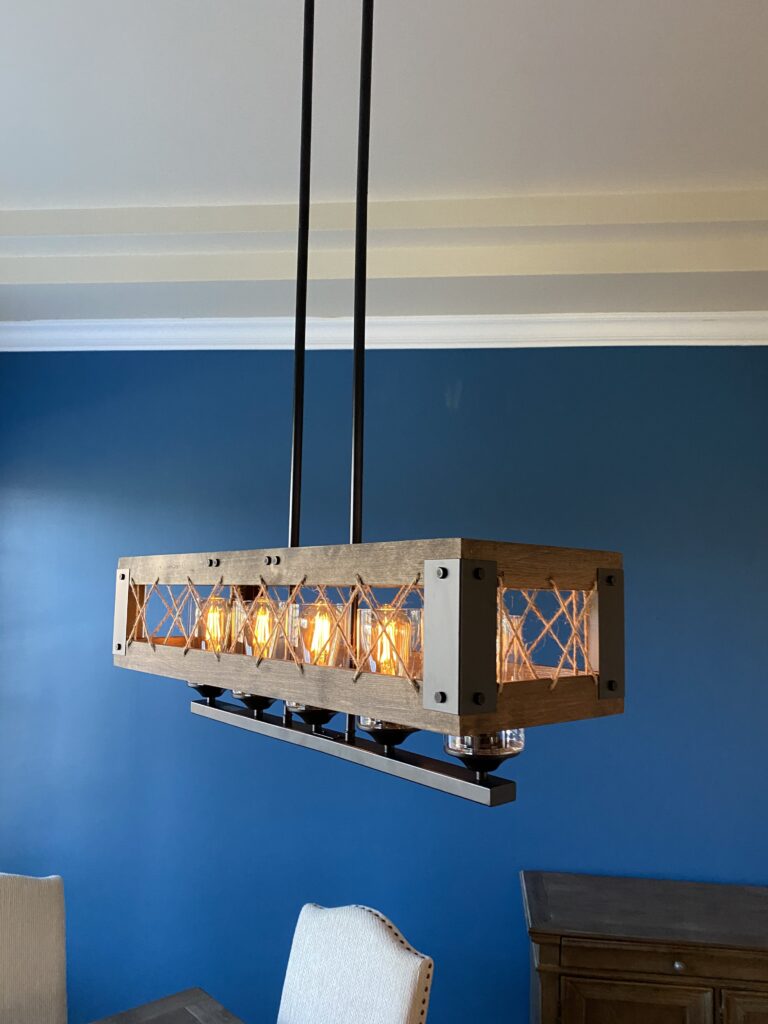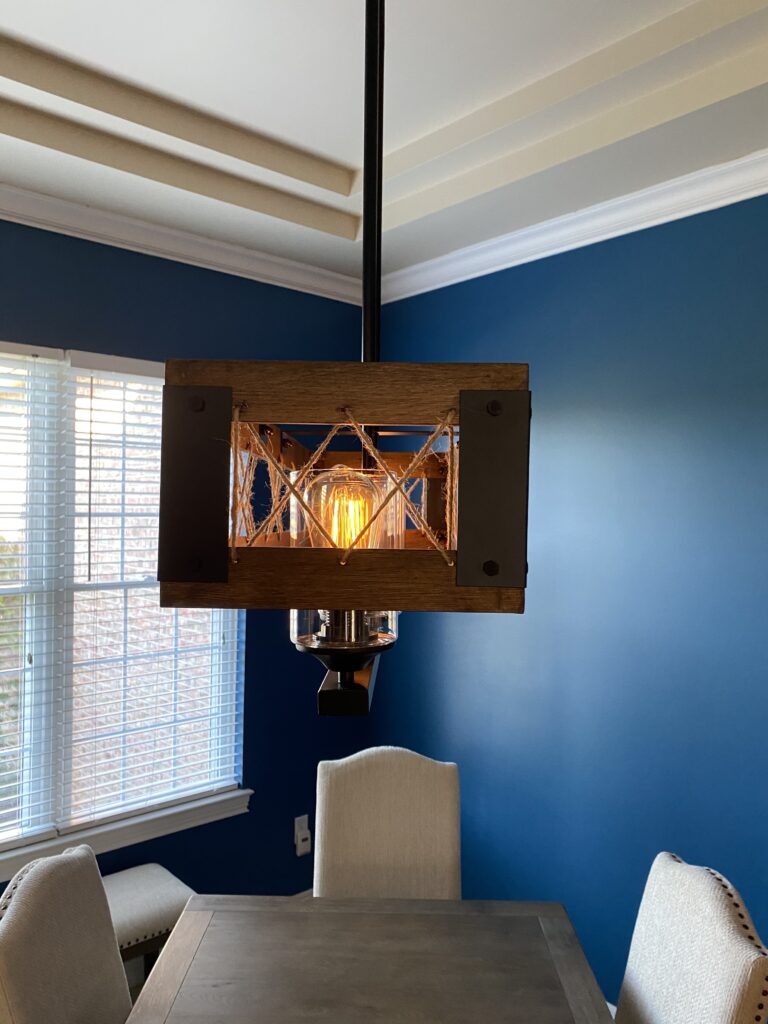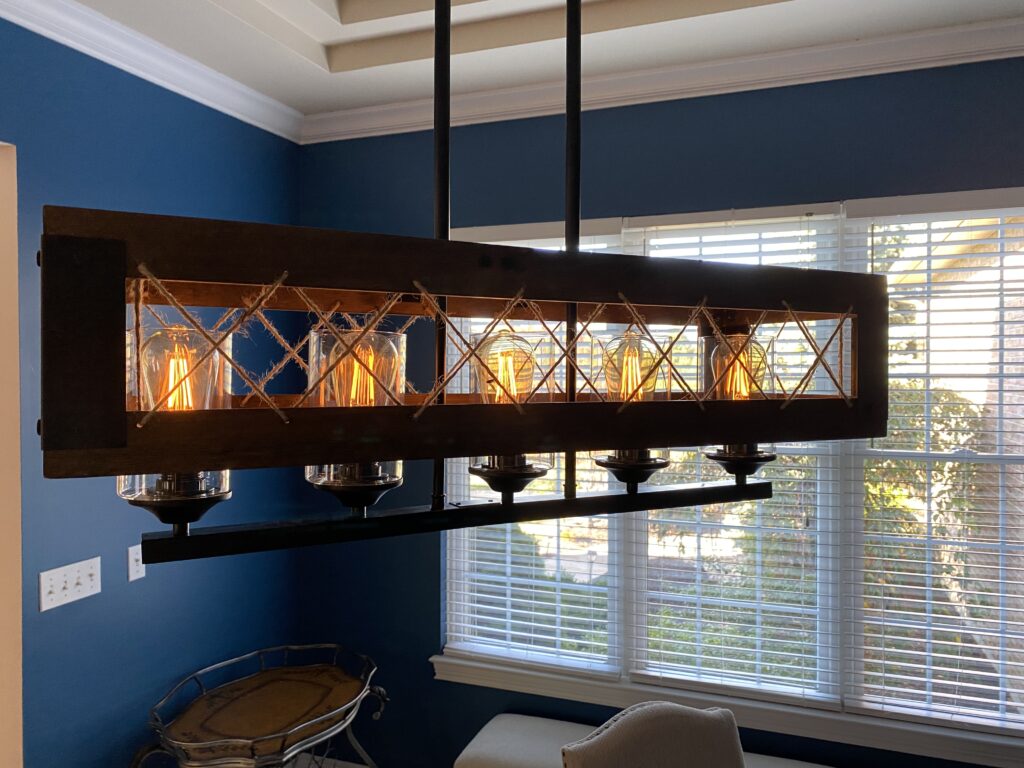 Oh yes, I almost forgot, the light bulbs.  I tried a few different ones, but really love these from Phillips.  They come in clear or amber (I went with amber because my kids wanted me to).  They are dimmable, and can be controlled with the free app Wiz, or you can use voice control using Amazon Alexa,  Google Assistant or Siri Shortcuts.  The app also has a scheduler and I set the lights to come on just a few minutes before my alarm clock.  I love walking out to the room already lit instead of having to fumble for the light switch.
I hope you enjoyed this week's update.  Follow me on Instagram and Pinterest for daily updates, and check back here next week as I add accessories and hopefully finish a project for the wall.
Have a great week everyone.  See you soon!