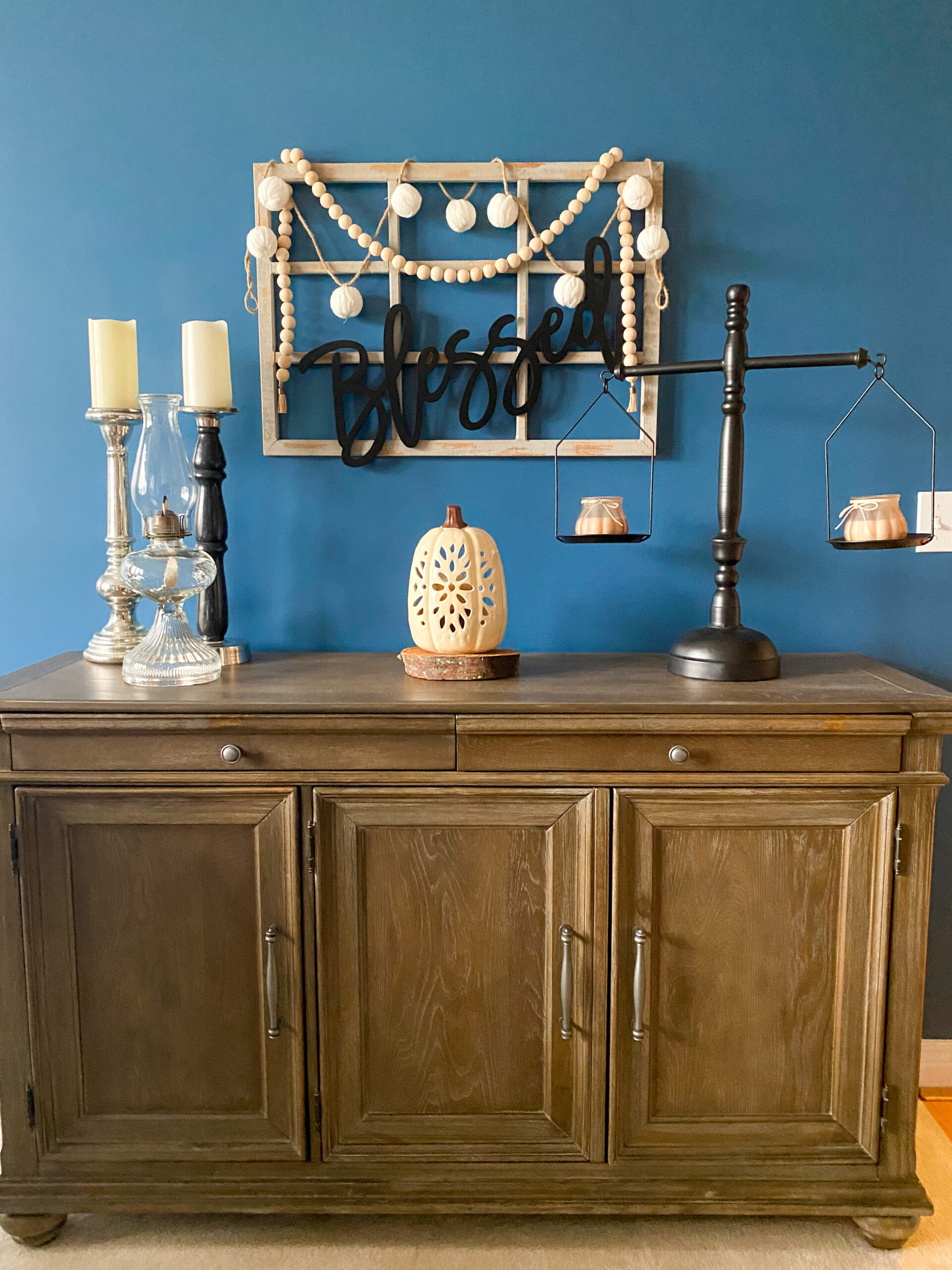 Modern Rustic Dining Room Accessories – ORC – Week 4
We are in the home stretch of our modern rusting dining room update.  The painting is finished! The furniture is in!  The light has been hung! Now it's time for the easy stuff.  The accessories!  If you have been following along, welcome back!  If this is your first time visiting we are so glad you are here.  If you would like to catch up, you can find my previous weeks updates on the One Room Challenge® by following these links.  Week 1, Week 2, Week 3.  I can't believe we are in week 4 already!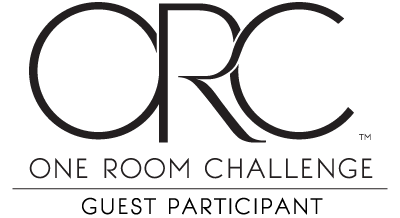 I started this week by adding accessories to my bar cart, the one piece of furniture which returned from the old room.  If you remember from my first post I mentioned this piece would be returning because I love it and because it's very sentimental.  My parents bought it for us as a house warming gift when we first had this home built.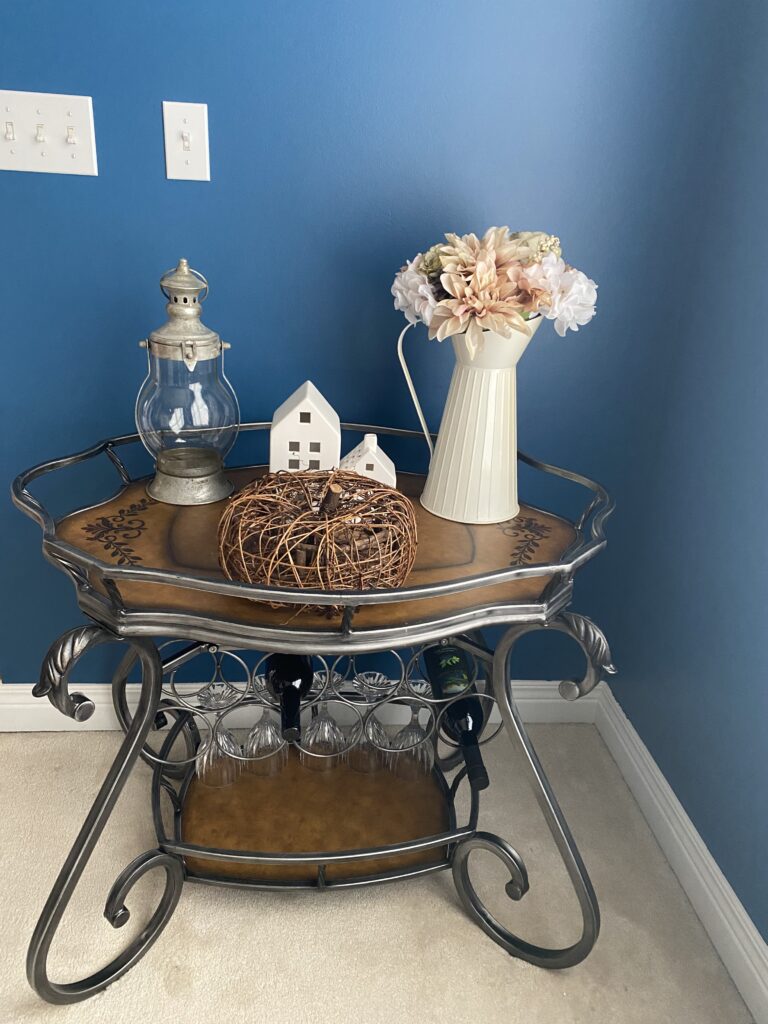 I love this wine table my parents gave me, and I have looked and looked to find something similar to link to, but I can't find any quite like this.  I can't really find any close, but the closest I have found so far is this or this.  If I find a closer match, I will update the links.
I added two bottles of wine, and wine glasses from Mikasa.  On the tabletop I added two white ceramic houses from Target, a vintage style lantern from Hobby Lobby, a pitcher from Rod Works, flowers from Michaels, and a vine pumpkin I have had for years.
Next I worked on the beautiful server.  I knew I wanted 3 things on this server.
I knew I wanted to incorporate my Grandmother's oil lamp that my Mother had given me.
The second item I knew I wanted on the server was a balance scale.  I looked at several balance scales, before deciding, but when I found this one I knew it was the one.
The third and final item I was certain I wanted to display is a piece saved from a tree from the front yard of the house where I grew up.  My sister-in-law surprised me with this at Christmas!  She had preserved the piece of the tree and I am so happy I found such a great place to display it.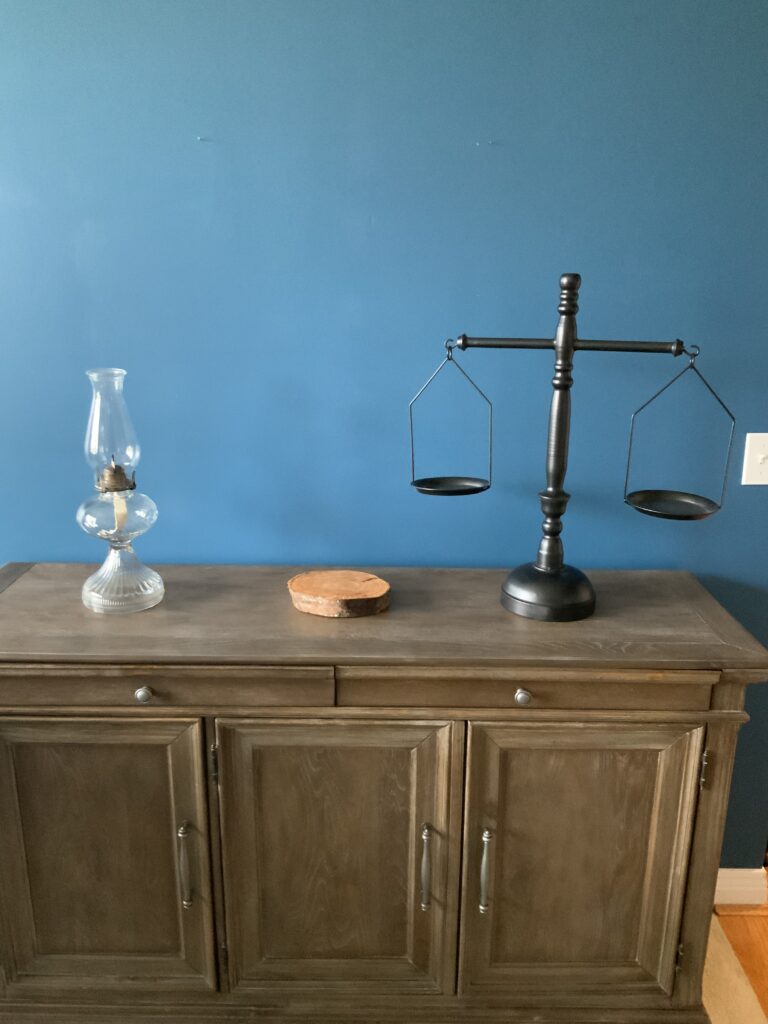 Now I just needed to figure out what else.  I purchased this pumpkin jar candle holder from a school fundraiser.  The candlesticks are from HomeGoods.  I love that they are similar size, but different materials.  On both the candle sticks and in the lantern, I use LED candles from Hobby Lobby.  They have a timer that automatically turns them on at the same time each night and off 5 hours later.
Finally I added these cute little pumpkin candles from Kirkland's.  It appears these are no longer is stock, but they have lots of candles available with fall scents that smell delicious!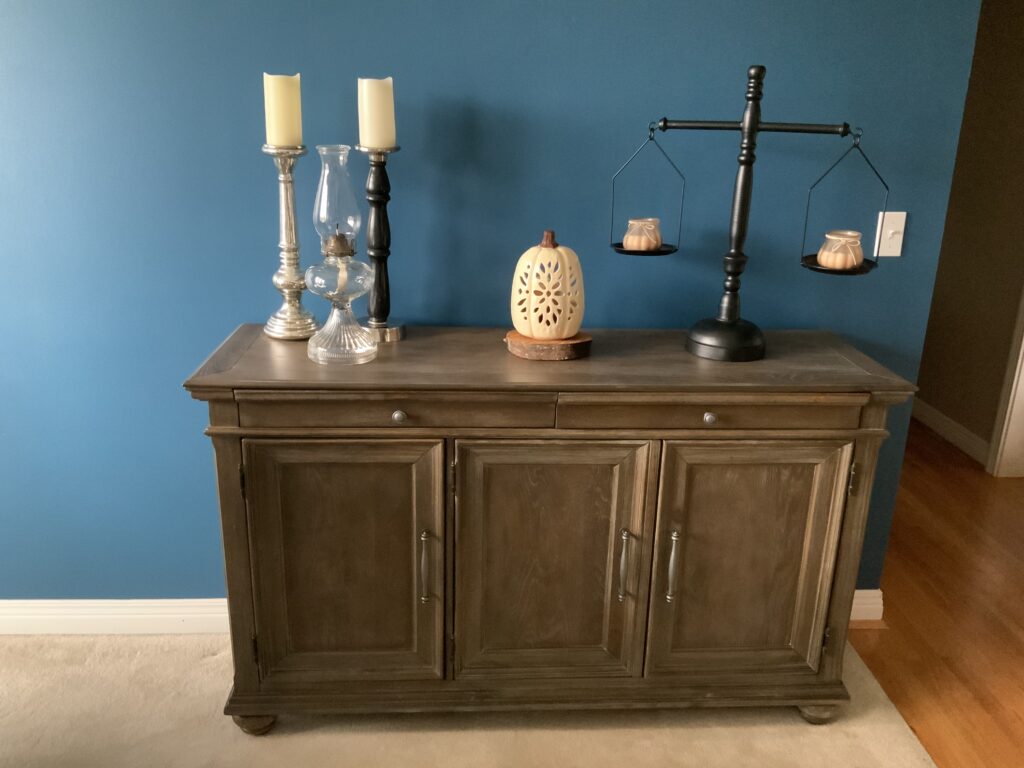 Finally, it is time to share my tablescape.  I love my new large farmhouse table and I have been looking forward to this for weeks.  Since the One Room Challenge® is scheduled to finish right before thanksgiving, I used a neutral fall them for my tablescape.
I decided to use a simple buffalo check for my main pattern, who doesn't love Buffalo check after all?  I incorporated this pattern with a table runner, placemats, and fabric pumpkins.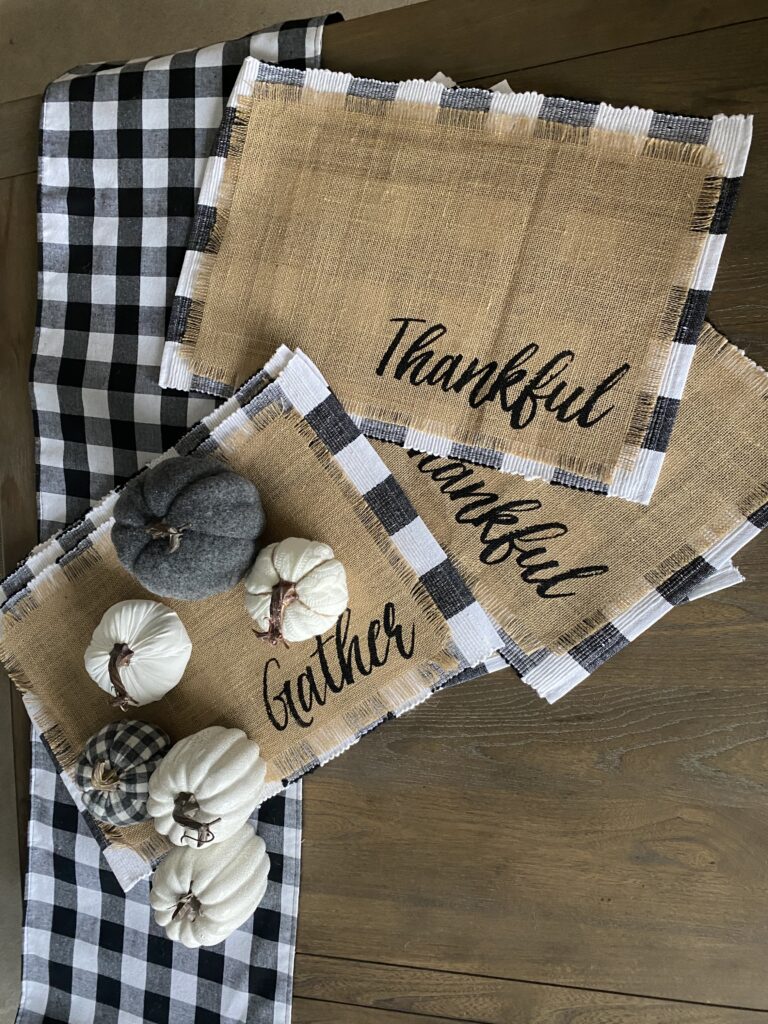 Next I added white dinnerware.  These dishes are from the French Countryside collection of Mikasa.  You can find them here.  Along with the place settings I added the pitcher and lidded bowl.
Once you have them place settings taken care of, it's time to add in the decorative pieces.  I started with this rustic wooden lazy Susan.  I have again, had mine for several years, but I know it came from Bed, Bath, and Beyond and a similar one can be found here.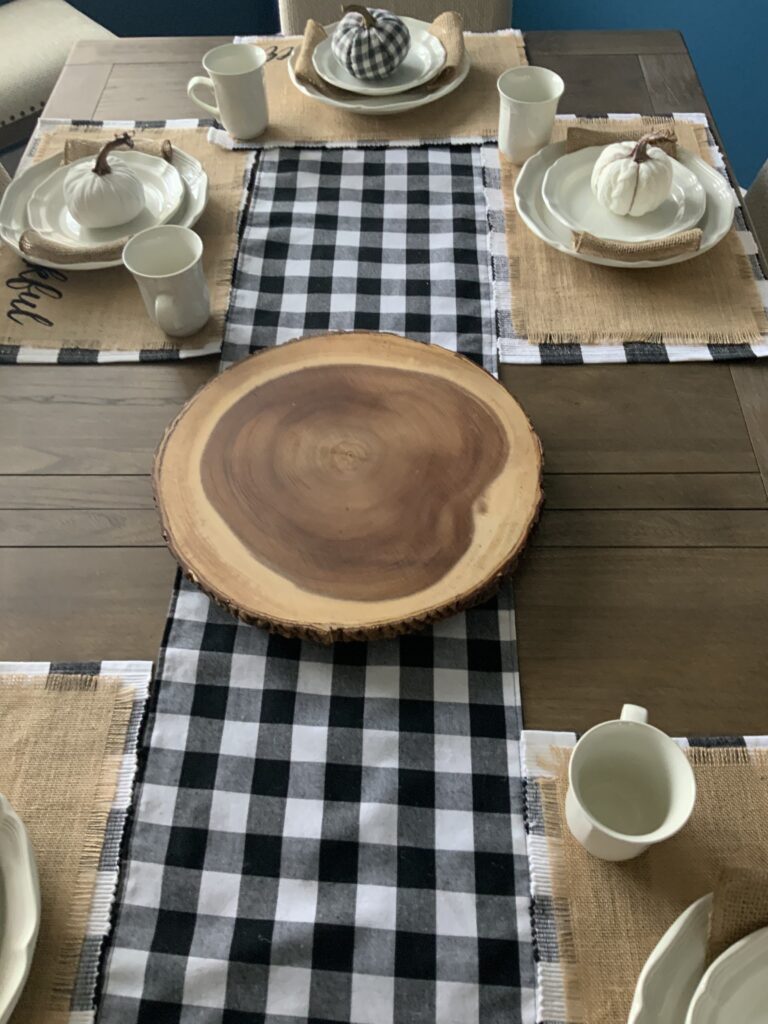 To continue with my fall look, I added a fall stem bundle and more fabric pumpkins.  I also added some fall scatter of acorns, nuts, and leaves.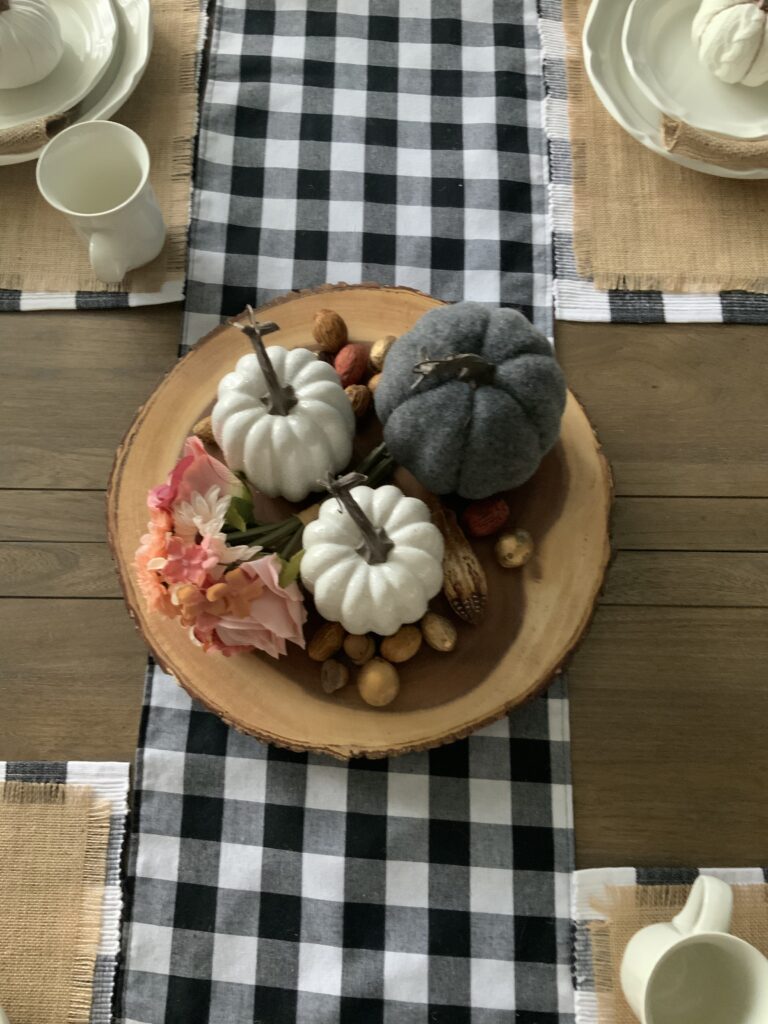 Next I added a couple of beautiful pine cones, some farmhouse beads, (if you would like to learn to make your own farmhouse beads, you can access a tutorial here).  Lastly, I added this great blue bell jar from 1976.  If you look closely you can see the bicentennial celebrations seal made into the glass.  This was a gift from Mom, and I love it!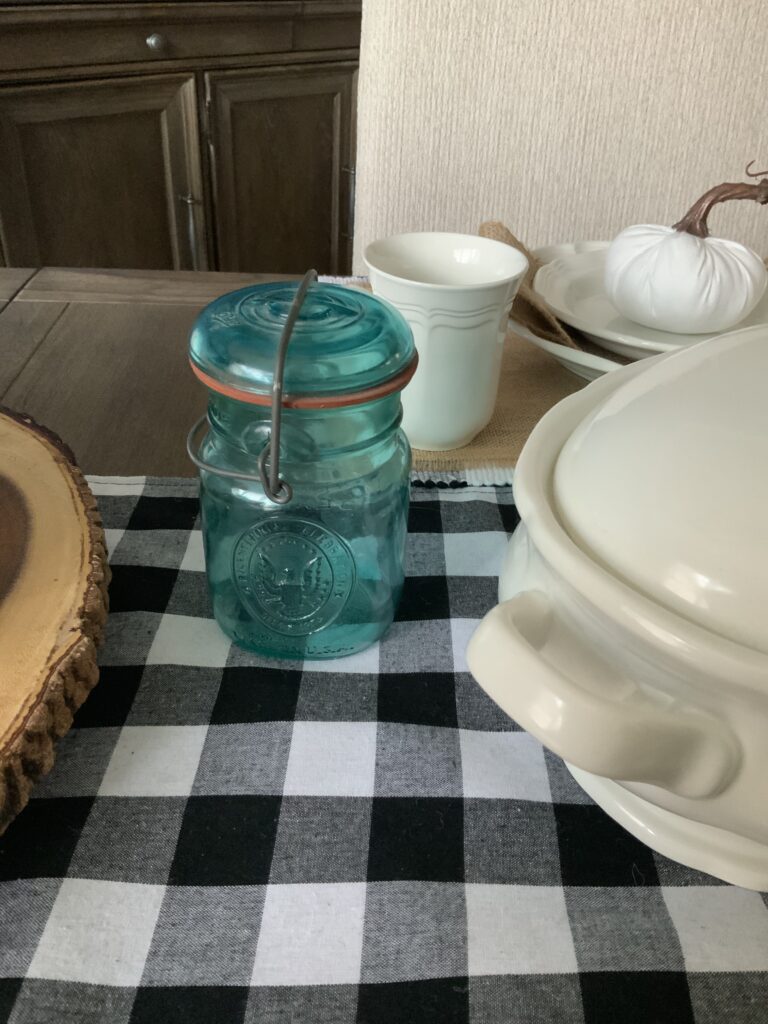 I'm so happy it all came together this well.  Next week I work on the wall.  We will add some window treatments, and wall decor.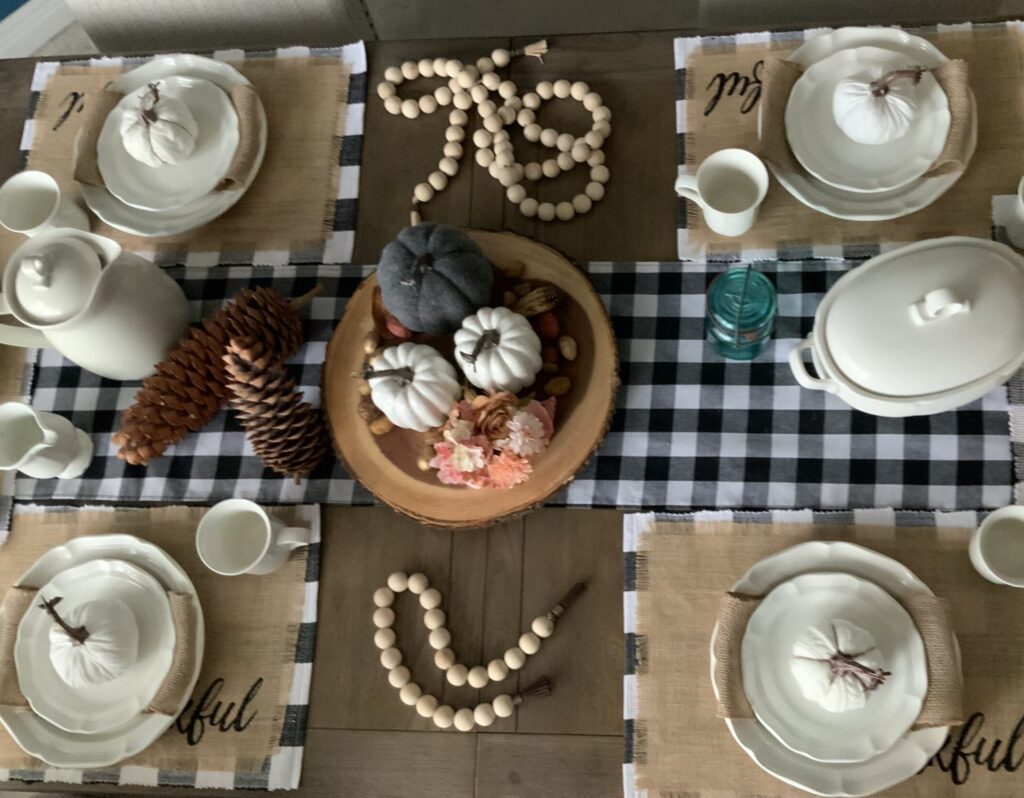 I wasn't sure if I would have time to complete this project this week, or it would fall over to next, but I am happy to announce that I was still up at 2AM last night, and my DIY wall decor piece is finished!  There is a full blog post on it at this link, but I will give the quick high lights here.
I used farmhouse beads that I made myself, (click to see the tutorial) a garland from Michaels, and the wooden word "Blessed" I found here.  I also used a vintage window frame as the base for my wall decor.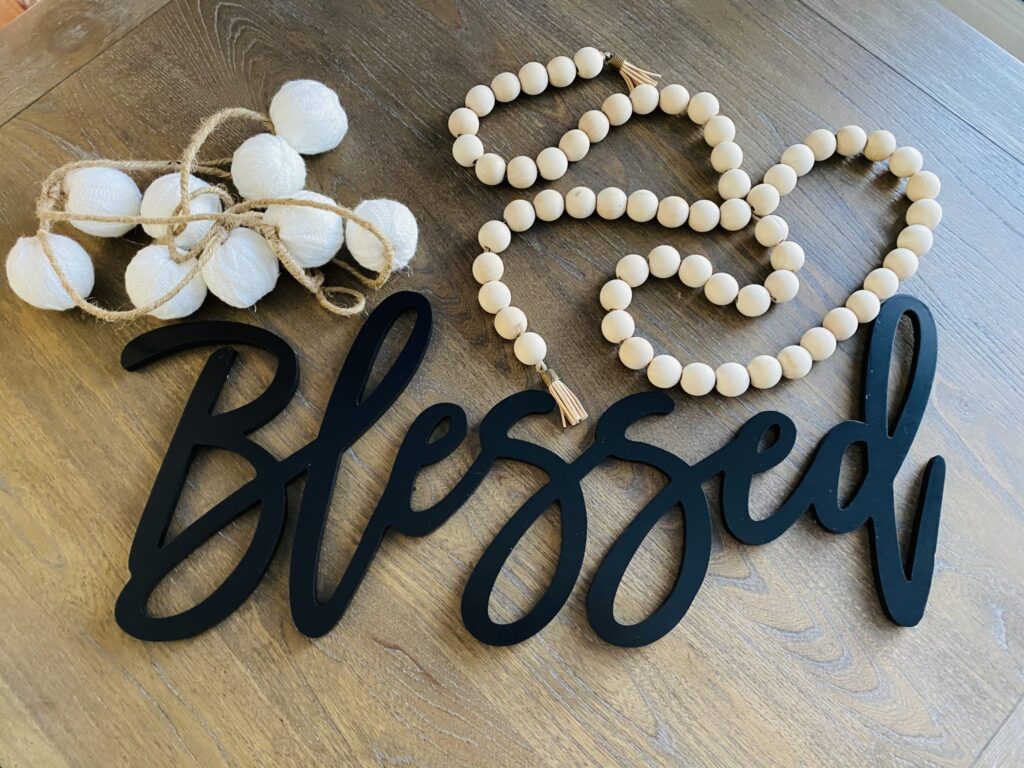 Here is the finished product.  If I were to do it over, I think I would look for a larger window so the overall piece would be bigger, but overall I am very happy with how it turned out.  I love all the textures together in this one area.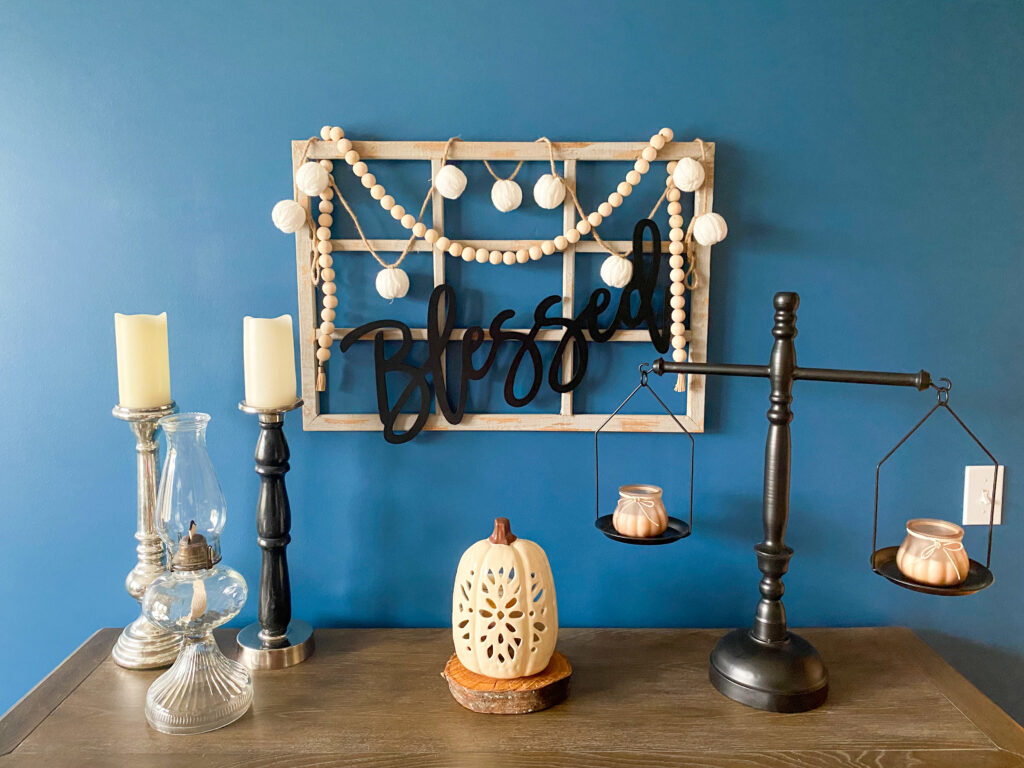 Thanks for reading.  Don't forget to pop over to the One Room Challenge® blog page at this link to check out some of the other guest designers!  Everyone is getting so close now.  It's so exciting to see everyone's projects nearing completion.
Have a great week and don't forget to check back next week for more updates.  Follow me on Pinterest and Instagram for updates during the week.
See you soon,
Sondra