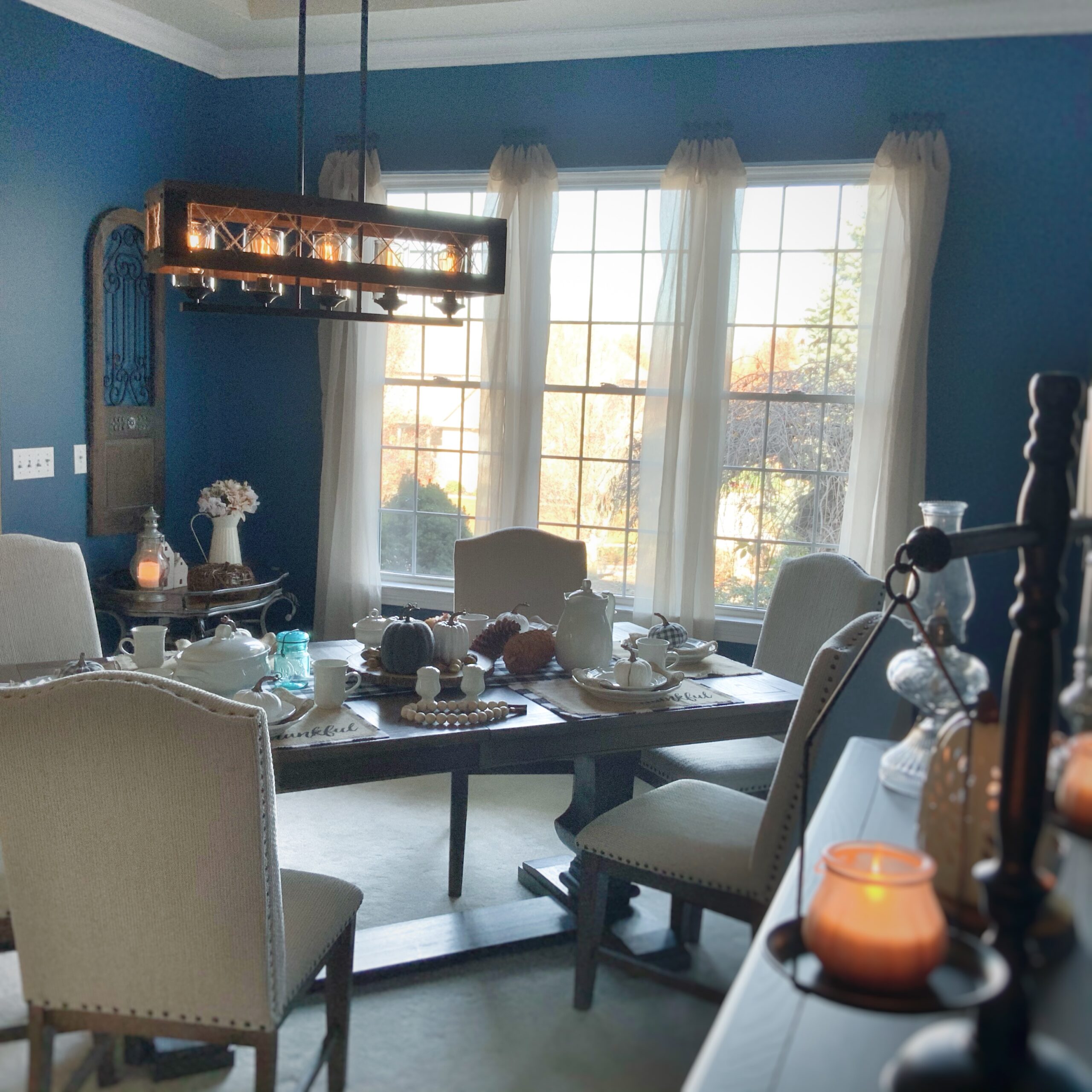 One Room Challenge – Warm, Cozy Dining Room Reveal
This week we finished the One Room Challenge® for our warm and cozy dining room.  Who is ready for the reveal and some before and after photos?  I can't believe we have already arrived at the end of this season's One Room Challenge®.  I had such a fabulous time that I am already planning which room I will renovate for the spring event.  I also learned so much from the other designers and I really enjoyed following along with their renovations.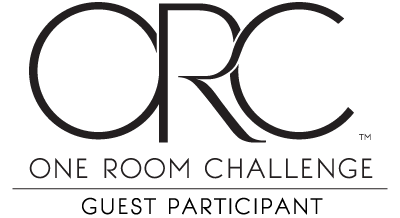 If you have followed along with me for the last 6 weeks, thank you so much!  If you are a new visitor, welcome and feel free to check out my progress at the following links.  In week 1 we shared our plans with you.  In week 2 we painted, and painted, and then repainted. Week 3 we brought in the furniture and hung the new light fixture. Week 4 was all about the accessories for the room.  And in Week 5 we finished up with window treatments and wall decor – including a DIY piece.
I had planned all along to finish my renovation early because I was renovating the dining room and the end date was so close to Thanksgiving, and I am happy to say that I made it.  I actually finished up my renovation last week, so Mom, come on over, we can have Thanksgiving here this year!
A few of my favorite things:
Before we jump into the before and after pics, here are a few of my favorite things about the room.
I love, love, love our new light fixture.  The color, the added texture of the jute cording, the design. I can't say enough about this light.  I also love the bulbs we use.  They go from bright to nightlight and even have a wake feature that turns them brighter over time in the mornings. They work with an app or can be voice controlled with a smart speaker.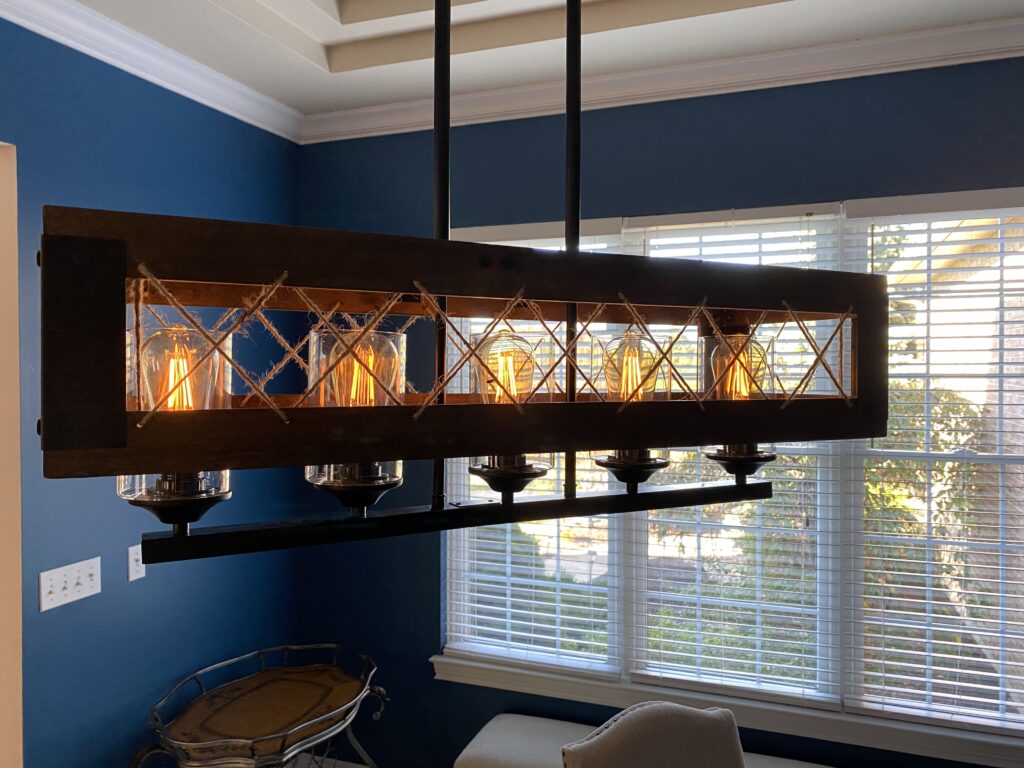 We are all so happy with the size of this table.  I have always loved having a seasonal tablescape and with the size of this table, I just can't wait to keep at it.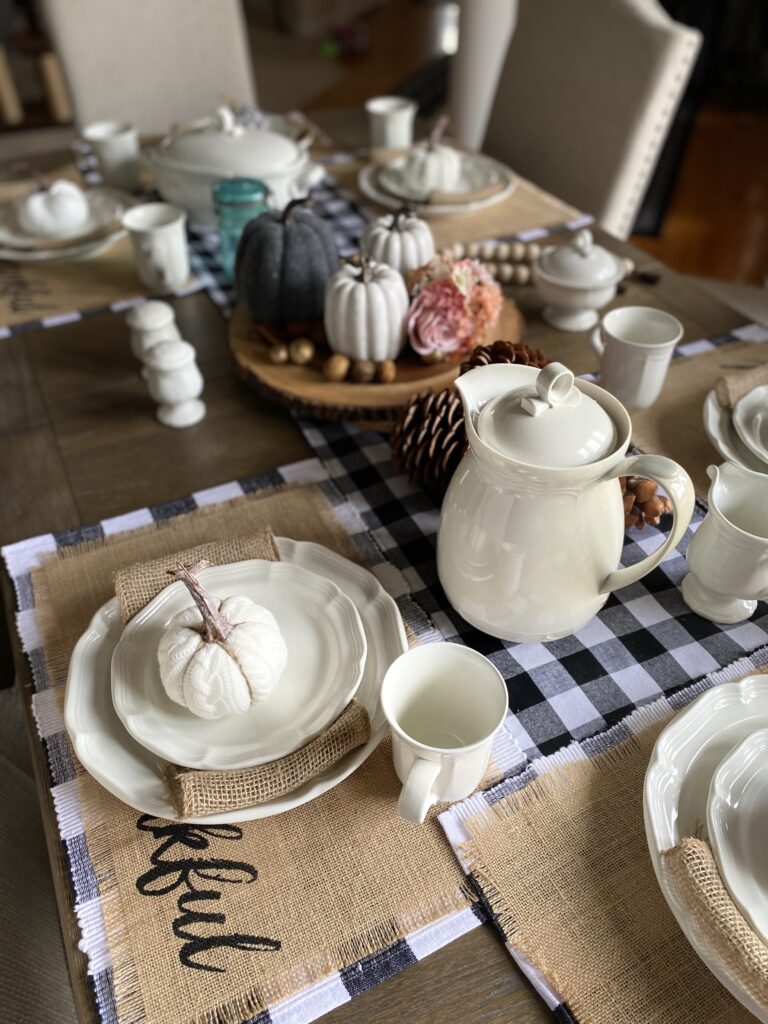 I wasn't sure about this wall decor when I first saw it.  I mean, what's not to love, but I wasn't sure it would be the right fit with all of the other wood in the room, including the wood light fixture.  However, I think the softness of the curtains and the position in relation to the window, allows enough light to play off the mirror strips that the decor is the perfect piece.  This is one piece I can truly say the photo doesn't do it justice.  It is even more beautiful in person.

Before and after:
As a reminder, this is where we started with our dining room.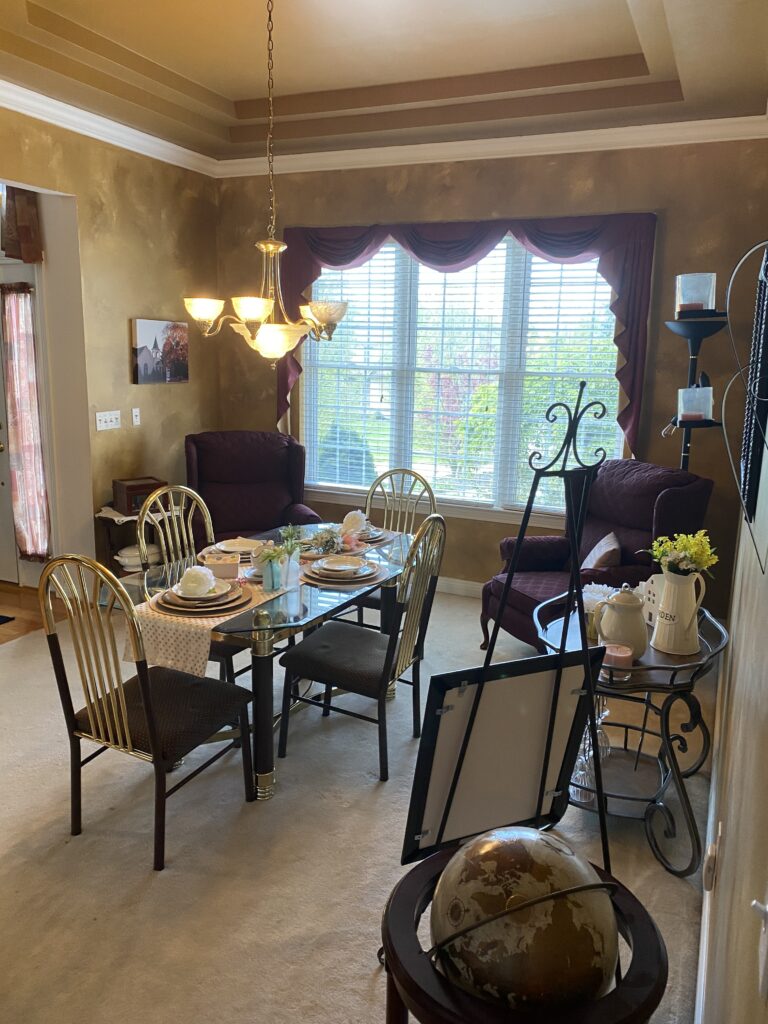 It hadn't been updated in over 10 years, and that table was a college graduation gift, so this room was definitely in need of an update!
I'm very happy today with our new dining room.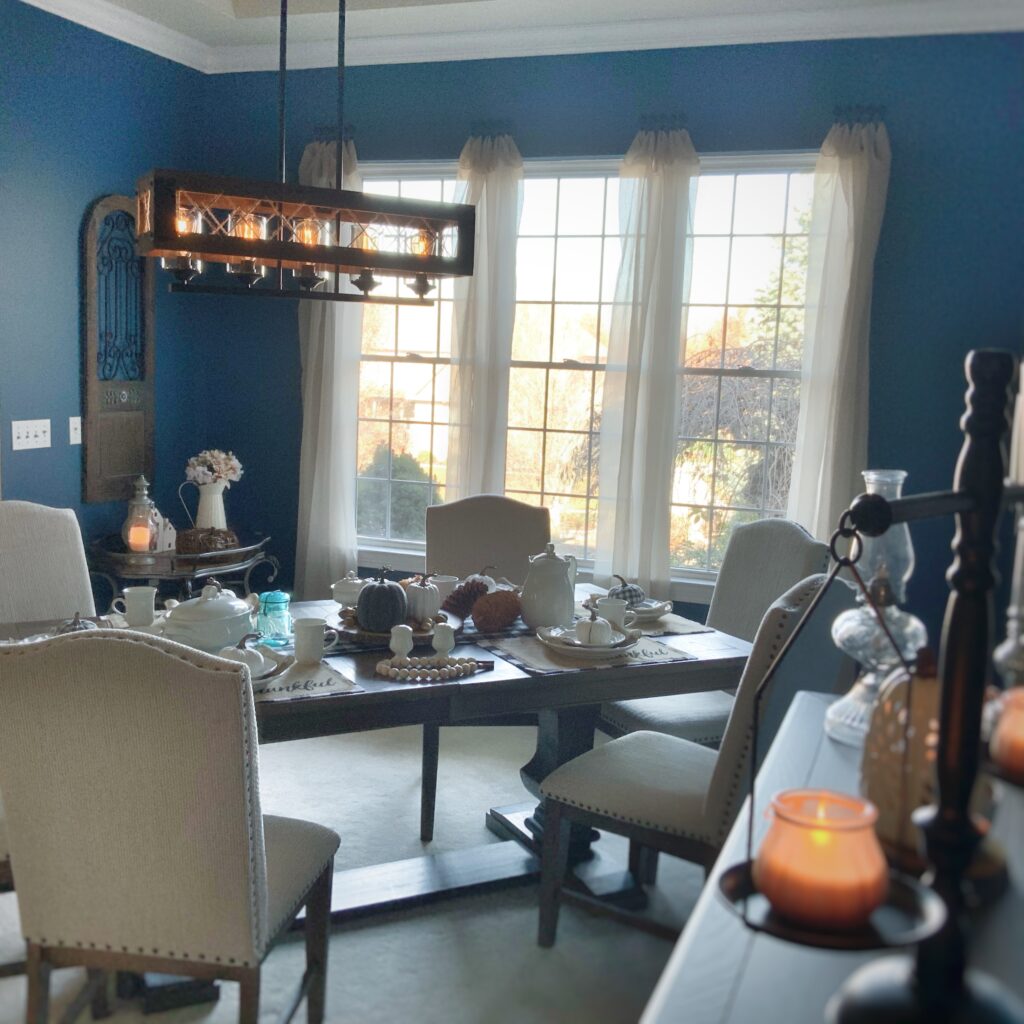 Here's another view of the entire room before.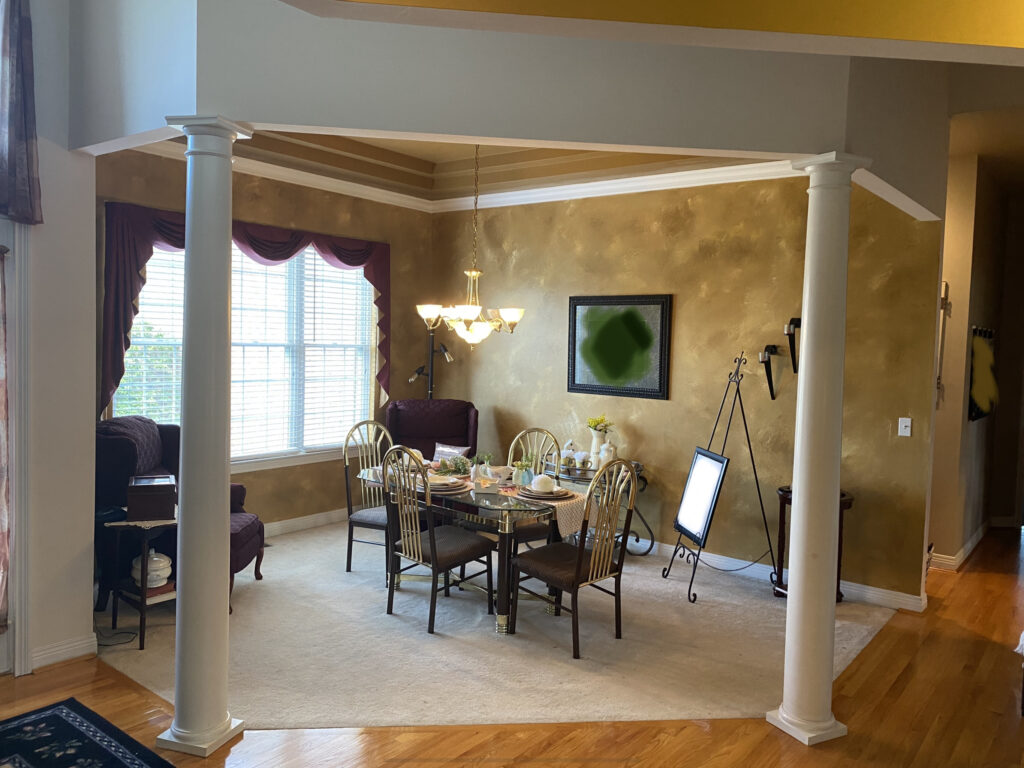 After, from the same angle.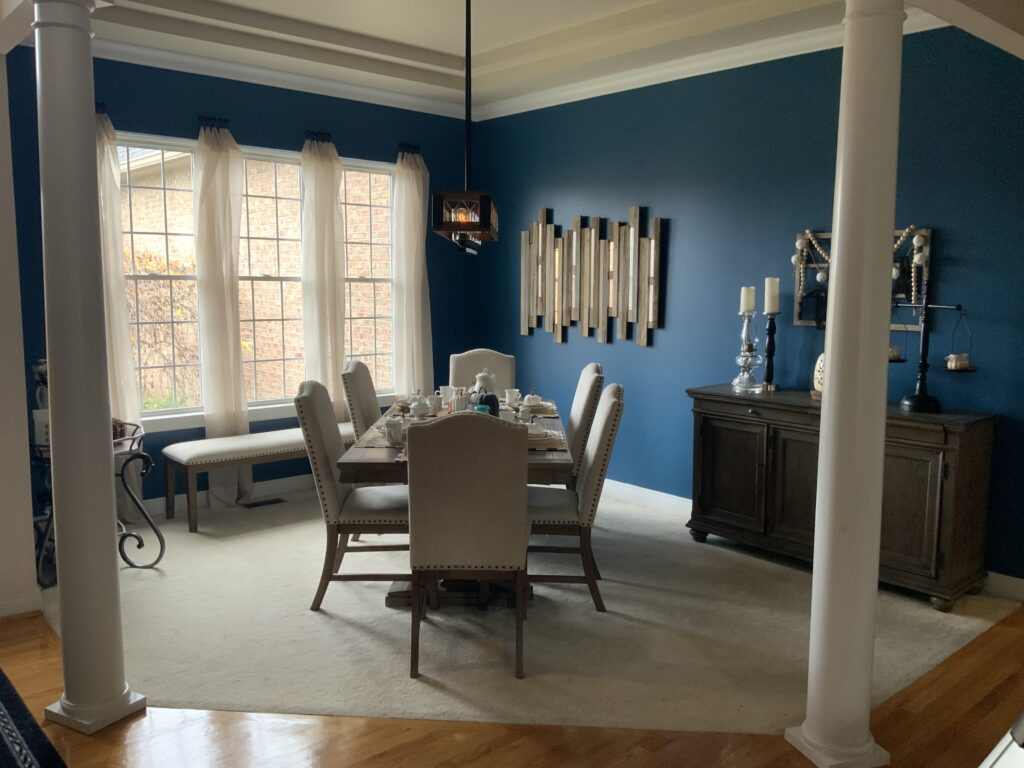 I love how everything turned out.  The furniture, the paint color, the window treatment, the accessories, and of course, the light!
The piece that remained
The one piece of furniture that stayed in the room is this very unique wine table that was a house warming gift from my parents.  Aside from the sentimental value, I just love it!  And when December arrives, it will transform into a hot cocoa bar for the remainder of the holiday season and all of January.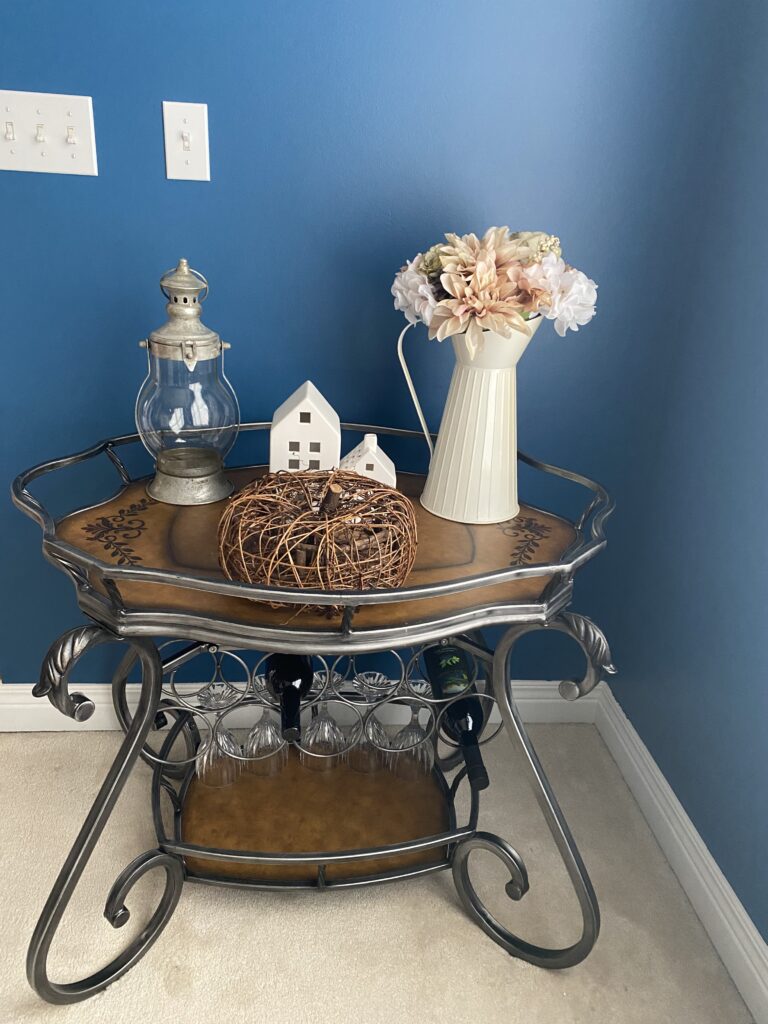 Up next:
One piece of art work that didn't make it back into this room, but will be in another room update coming soon is this gorgeous photo taken by my best friend.  Thanks Lisa, I love this photo and I hope to work on the room that will become its new home next!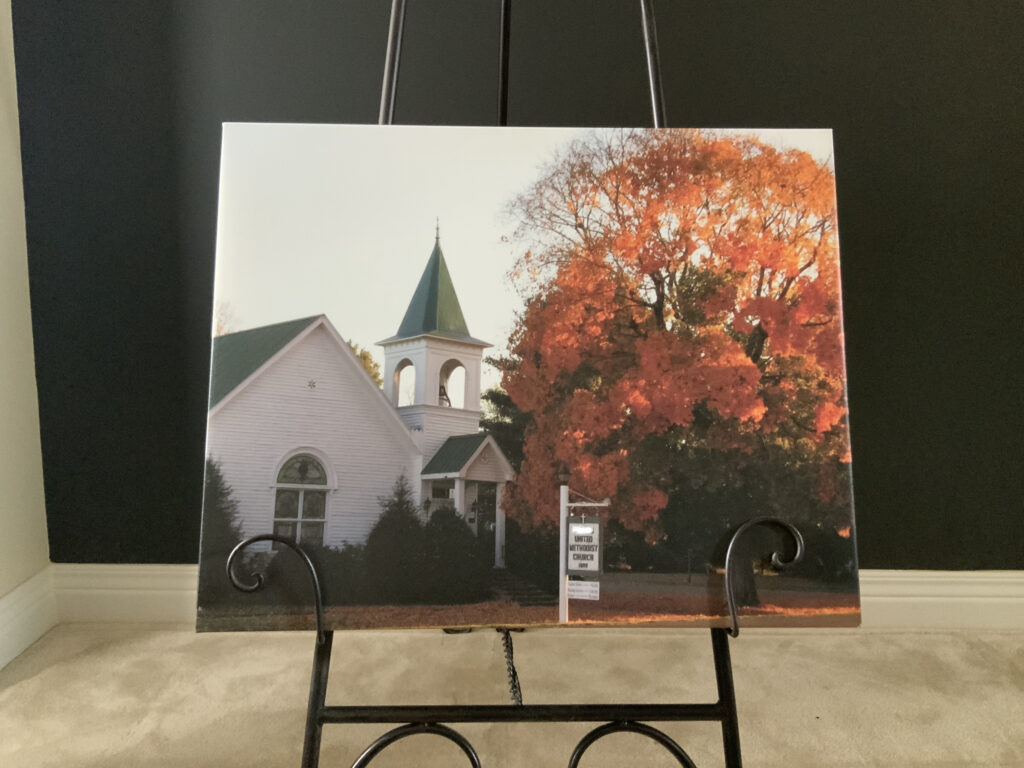 What I will probably change soon:
While I love almost everything about my new room, there are two things I would like to change.
For my window treatment, I wish I had spaced the holders out a bit more.  When they hang naturally, they are a bit more narrow at the top and I would like for them to hang straight. I will probably do that next week, since I put them up with Command Strips, it will be easy to reposition them with a new strip.
The other thing I will probably change soon is that I wish the custom wall decor I made for above the server was wider.  Because of the time crunch, the budget, and the COVID, I used a window frame I had on hand, but looking at it now, it should be larger.  I this I will order this one and redo the piece when it arrives.  This one is about 10" wider than the current one and approximately the same height so I think it will fit the space better.

Someday:
The one thing that I wish I could have done but was always off the table as far as time and budget is the flooring.  I would like to remove the carpet and add hardwood to the room.  The adjoining spaces are hardwood and, though I do like carpet in other areas, I often wonder why we ever put carpet in the dining room.
Thank you:
I want to thank everyone who has supported my efforts in this One Room Challenge®, especially my family who have all helped at one point or another – or many!  I also want to thank Linda and the entire team at theOne Room Challenge®is project drag on almost finished.  You gave me that extra push I needed to complete the project.  While this was my first time participating in the One Room Challenge® I hope it isn't my last!
I also want to thank the following suppliers without whom our dining room renovation would not have happened.
Ashley Homestores:  table, chairs, farmhouse bench, server
Kirklands: rustic wall decor and scale balance
Bed, Bath, and Beyond: bark wood lazy susan and window treatments
Michaels: flowers and accessories
Hobby Lobby: placemats, wall decor, lantern
Joann Fabric: table decor, pumpkins
Yankee Candle: jar candle holder
Thanks again for stopping by.  Don't forget to sign up for our newsletter to be the first to see all of our upcoming Christmas decor and DIYs.
The One Room Challenge had many wonderful guest and featured designers this season!  You can check out their updates below.
See you soon,
Sondra